Undergraduate skills module is editor's choice in top chemical education journal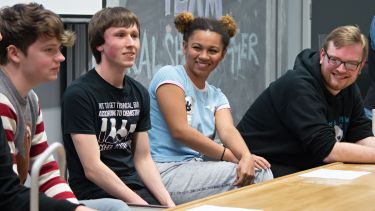 A paper on the Skills for Success projects that University of Sheffield chemistry students complete has been published in the Journal of Chemical Education as an Editor's Choice paper.
The article by Dr Jenny Burnham, 'Skills for Success: Student-Focused, Chemistry-Based, Skills-Developing, Open-Ended Project Work', explains how the third year undergraduate module allows students to choose their own skills development paths, while also developing critical reflection skills.
Jenny has been a Teaching Fellow at the University of Sheffield since 2005, delivering lectures, tutorials, and laboratory classes, whilst also running the level two synthetic laboratories and the level three Skills for Success module.
She said: "Skills for Success has been really successful year after year, which is a testament to the talent, enthusiasm, and hard work of our Level 3 students."
In our Skills for Success module, students choose their own project work, allowing them to customise their skills development towards the end of their degree courses. Students gain practice in writing applications and in personal reflection in a real world context. This comes at a time when students are thinking of what they might want to do after their undergraduate degree, and they can tailor their experience towards that.
Jenny, who is also a University of Sheffield Senate Award winner for Excellence in Learning and Teaching, and a Senior Fellow of the Higher Education Academy, said: "Project work varies year on year, and the ideal project would be one proposed by the students themselves. I always welcome suggestions!"
Students take responsibility for delivering a piece of project work to a deadline with minimal direction from a tutor. Projects have involved many different things: journalism, entertainment, research, work experience, course design, business planning, and debating have all appeared along with other group and individual projects. Our departmental magazine, Resonance, was the product of one of these projects.
Jenny said: "I am really pleased that the Skills for Success paper has been published in the very prestigious Journal of Chemical Education.  In addition, the paper has been chosen to be an Editor's Choice paper.  Only one ACS-published paper per day receives this accolade across the entire publishing stable and I am very honoured that they have chosen mine."
Explore the University
Discover what sets Sheffield apart at our next on-campus open day.