University of Sheffield chemists recognised for steps taken to create gender equality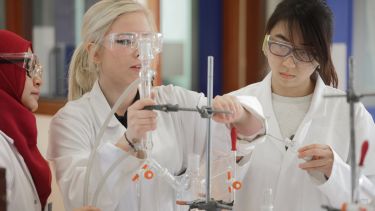 The University of Sheffield's Department of Chemistry has received its second Silver Athena SWAN award, which recognises staff's commitment to countering gender imbalances.
This latest success follows the Bronze award Chemistry received in 2009, which was renewed in 2012 and replaced by the department's first Silver award in 2016.
The Athena SWAN Charter was designed to give higher education and research institutions a framework to help advance the careers of female staff, who remain under-represented in fields such as science, technology, engineering, mathematics and medicine.
Organisations and departments within them can receive bronze, silver or gold Athena SWAN awards in recognition of the measures they have introduced to fulfil the principles of the charter.
Steps that the Department of Chemistry has taken to address these imbalances include updating the undergraduate and postgraduate recruitment process by increasing the visibility of women at open days, running a postgraduate opportunities event and early recruitment of postgraduate students. These measures have improved the gender balance of our student cohorts to reach and exceed Russell Group figures.
In addition, all staff are being automatically considered for promotion every year without having to put themselves forward, and staff meetings are scheduled during core hours to ensure that staff with caring responsibilities can attend.
Dr Natalia Martsinovich, who chairs the Department of Chemistry's Equality, Diversity and Inclusion committee, said: "I am delighted with this award, which reflects the hard work and sustained efforts made by our staff over the years to make the department a great place to work and study.
"A notable success is the improved gender balance of our undergraduate and postgraduate student cohorts, but there is obviously more that can be done to support staff and students across under-represented groups, and we have an ambitious plan for the next few years. We are proud of being a welcoming and inclusive community for all staff and students."
In 2019, the University of Sheffield's silver institutional award was renewed for a further three years, making Sheffield one of only 18 universities in the UK to hold this accolade.
A world top-100 university
We're a world top-100 university renowned for the excellence, impact and distinctiveness of our research-led learning and teaching.