Dr Barbara Ciani
Department of Chemistry
Lecturer in Biophysical Chemistry and Departmental BSO
Departmental BSO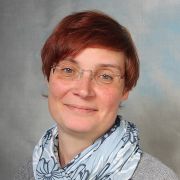 Profile

Dr. Ciani obtained a Laurea in Chemistry at University "La Sapienza", Rome in 1997. This was followed by a DPhil in Biochemistry at the University of Sussex in Brighton in 2001, after which she became a Postdoctoral Research Associate at the University of Nottingham (2001-2003) and subsequently at the University of Manchester (2004-2008). In 2008 she was appointed as a Lecturer in Biophysical Chemistry at the University of Sheffield.
Qualifications
Research interests

How is function encoded in protein self-assembly?
Compartmentalisation of chemical reactions is fundamental for the function of any biological cell. The confinement provided by membrane interfaces in intracellular organelles allows their contents to carry out specific tasks without the interference from other processes. 

In our laboratory, we study the mechanisms at the basis of protein self-assembly and how proteins shape lipid membranes in vitro and in vivo. Specifically, we focus on the biochemical and biophysical mechanisms of cellular membrane repair. Remodelling of phospholipid membranes underpins most cellular functions from membrane trafficking to viral infections and genome compartmentalisation.

Scientific Questions we are addressing –
•    What are the signals that lead proteins to assemble into larger structures to sculpt phospholipid membranes?
•    How does membrane integrity maintain the healthy state of a biological cell?
•    Can we repurpose these biological processes for novel functions?

We tackle these questions with a combination of biochemistry, cell biology and protein design approaches.

Our lab has expertise in:

Protein engineering and high-level recombinant peptide and protein expression for structural studies
De novo and rational design of α- helical and β-hairpin peptides
Protein stability and protein-protein interaction measurements
Characterisation of self-assembling proteins
Characterisation of protein-membranes interactions
Publications
Teaching interests

Thermodynamics; Biophysical Chemistry; Protein Design; Structural Biology; Toxicology
Teaching activities

Undergraduate and postgraduate taught modules

Thermodynamics, Equilibria and Electrochemistry (Level 1)
This course introduces quantitative description of chemical and electrochemical equilibria and their energetics.
Skills for Success (Level 3)
The Skills for Success Project aims to ensure that students identify and develop skills that will be of use to them in life, future study and employment and provide a basis from which they can undertake further training of a professional nature.
Biophysical Chemistry (Level 4)
This lecture course provides an overview of the classical methods employed to investigate the structure of biopolymers and their interactions.
Toxicology (MSc Drug Discovery Science)
This segment is part of the Pharmacology, Medicinal Chemistry and Drug Design core module.

Support Teaching:

Tutorials: Level 1 General Chemistry, Level 2 Physical Chemistry
Level 3 and MSc Literature Review

Laboratory Teaching:

Level 2 Physical Laboratories
Level 4 Research Project
Professional activities

Active member of the RSC Biophysical Chemistry Interest Group.

Full member of the EPSRC review college.