Dr Joanna Buckley
MChem, PhD, CChem, MRSC
Education Coordinator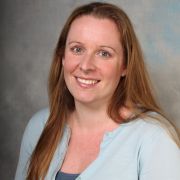 Profile

Aged seven, the gift of a chemistry set sparked Joanna's interest. She completed every single experiment, charring the kitchen work surface with the spirit burner and staining the dining room carpet with indicator in the process.
Thankfully, her practical technique improved and she studied for a masters degree and PhD at the University of York, where her research focused on nanotechnology and biomaterials. Always passionate about science communication, Jo now works for the Royal Society of Chemistry and supports the Department of Chemistry, helping to promote the chemical sciences in the region.
In her spare time, she sub-edits a national magazine for post-16 chemists and writes and talks about science whenever she can to whoever will listen.
Qualifications
Teaching activities

Outreach
Jo supports and delivers the schools and colleges programme for the Department of Chemistry, including the delivery of taster days and teaching in the  Kroto Schools Lab oratory. This offers the opportunity for school and college students to carry out practical chemistry in a University setting, which is important to engage and inspire future scientists.
Professional activities

Selected media and engagement