The Elemental Microanalysis Service is the ideal method to determine sample purity and combined with Mass Spectrometry and NMR allows for the characterisation of a compound.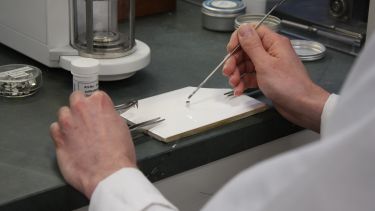 Services
Using the industry-leading Elementar vario MICRO cube the Elemental Microanalysis Service is able to accurately determine the percentage composition of carbon, hydrogen and nitrogen and also sulphur on request.
The service is also able to accurately determine chlorine, bromine and iodine using an oxygen flask combustion technique followed by titration. Results are presented as a percentage of the total sample, by weight.
The service is able to analyse a range of solid, liquid and gel samples including organic synthesis compounds, polymers, water effluents, biomass samples and pharmaceuticals and can provide accurate results with sample amounts as low as 1-2mg (although 10mg per analysis is preferred).
Offering competitive pricing and a 2-3 day turnaround from the receipt of samples the service is able to provide a quick and cost-effective service regardless of timescales and budget.
---
Contact
For submission details and pricing for the service please contact Elaine Frary and Heather Grievson.
Email: Chem-EAS@sheffield.ac.uk
A world top-100 university
We're a world top-100 university renowned for the excellence, impact and distinctiveness of our research-led learning and teaching.