Reaction Assistance Services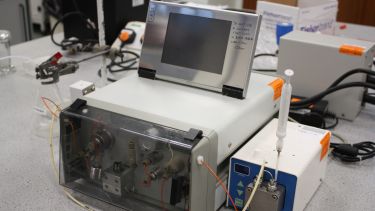 H-Cube Hydrogenation Reactor
The H-cube is a continuous flow reactor used to carry out reactions safely in a hydrogen (or inert) atmosphere of up to 100 Bar and temperatures up to 100 °C.
The electrolysis module provides only the required amount of hydrogen required for the reaction, much safer than maintaining a hydrogen gas cylinder. The microreactor can be equipped with a wide assortment of different catalysts such as:
Pd/C
Pt/C
Raney-Ni
Rh/C
Wilkinsons Catalyst
Lindlars Catalyst
Tetrakiss (TPP) Pd polymer-bound
Autoclave – High-pressure reaction vessels
The service has two batch autoclaves with a maximum volume being 1200 ml. Reactions can be with hydrogen (or possibly other reactant gases) or in an inert atmosphere, at temperatures up to 300 °C and pressure up to 150 Bar (2175 psi). 
---
Contact
Prices and turnaround times for this service are available by contacting Rob Hanson.
Email: r.j.hanson@sheffield.ac.uk.
University of Sheffield customers should bring their samples along with a completed Internal service form and purchase order form (members of the Department of Chemistry do not need a purchase order form) to lab C43 in the Dainton Building.
External customers should send their samples along with a completed external service form, safety information and purchase order form, to:
Robert Hanson
Department of Chemistry
University of Sheffield
Dainton Building
Sheffield
S3 7HF
UK
Materials sent to the service should be correctly packaged and labelled in accordance with CoSHH regulations and a CoSHH form for the proposed reaction must also be sent.
Every effort will be made to carry out the reaction as requested, however, results cannot be guaranteed.
A world top-100 university
We're a world top-100 university renowned for the excellence, impact and distinctiveness of our research-led learning and teaching.