The Spectroscopy Service is an analytical facility based in the Department of Chemistry and is offered to all University of Sheffield departments as well as external customers.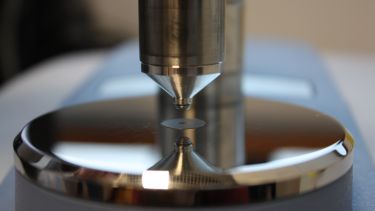 Services
The service can be divided into two parts:
FT-IR Spectroscopy
A technique used for identification and structural analysis of chemical compounds. Several accessories are available to enable most sample types to be analysed. Usually a minimum of 10mg's of sample is required.
An IR spectrometer can be a very useful qualitative technique for providing information on the functional groups within a chemical structure. 
Most solid or liquid samples are most easily run on the Diamond ATR accessories, however other sampling accessories are available including thin film plates, solution cells, gas cells, nujol mull and KBr disc facilities.
The wavenumber range of the instruments is 400 to 4000cm-1.
UV/Vis Spectroscopy
A technique used for identification and quantification of chemical compounds. The samples are analysed in solution and usually a minimum of 10mg's of sample is required.
UV/Vis spectroscopy is a common technique for kinetic studies and the quantification of chromophore containing compounds in solution.
The UV/Vis Spectrometer used by the service is a Varian Cary 50.
It has a water bath controlled heated cuvette jacket which can be programmed from room temperature to 80°C and there's also the option of a fibre-optic probe which could be used for remote sampling rather than by using a conventional cuvette.
The wavelength range is 190 to 1100nm with an absorbance range of 3Abs.
---
Contact
In the first instance please contact Simon Thorpe, technical manager, who can discuss your query with you and direct you to the most appropriate member of our analytical services team.
Email: s.j.thorpe@sheffield.ac.uk 
University of Sheffield customers should bring their samples along with a completed Internal service form and purchase order form (members of the Department of Chemistry do not need a purchase order form) to lab C43 in the Dainton Building.
Sample submission forms
IR Samples
UV/vis samples
A world top-100 university
We're a world top-100 university renowned for the excellence, impact and distinctiveness of our research-led learning and teaching.