Learning about chemistry starts well before university. We run activities to support learning in schools and colleges for students in years 12-13, ranging from lab classes and analytical workshops to careers advice.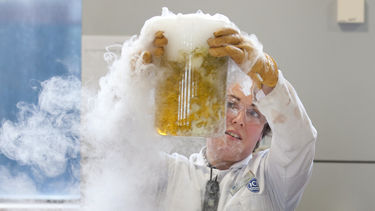 Due to the COVID-19 pandemic, we are not currently taking bookings for the Kroto Schools Laboratory.
We will update this page with more information when we are in a position to reopen the laboratory.
View our booking calendar
Activities
Chemists do reactions and make things. Our laboratory classes introduce students to practical chemistry in a modern, well-equipped university laboratory environment.
Students carry out chemical synthesis and investigations or can use the department's cutting edge analytical techniques such as IR, NMR spectroscopy and gas chromatography-mass spectrometry.
Laboratory classes: Years 12-13

A number of experiments are available, linked to the A Level syllabus, and are all designed to interest and encourage students in their chemistry studies.

Sessions we run:

Preparation of paracetamol (Y12 and 13) Preparation of aspirin (Y12 and 13)

Please note:

Staff from the Department of Chemistry supervise, demonstrate and teach each experiment but we require two members of staff from the school (per group) to ensure adequate safety cover All safety apparatus will be provided on the day e.g. lab coats, goggles and nitrile gloves.

Preparation of paracetamol
Paracetamol is a very widely used medicine. It is a mild painkiller and reduces the temperature of patients with fever. In this practical workshop you will have the opportunity to prepare paracetamol via a two-part synthesis and to purify the product using vacuum filtration and recrystallisation techniques. The mechanisms of reduction, nitration and acylation will be covered with the option of the determination of structure using IR and MS techniques.

Preparation of aspirin
The organic synthesis of aspirin (2-ethanoylbenzenecarboxylic acid) will involve an esterification reaction by a reflux synthesis using quick fit apparatus and purification methods. Aspirin will be prepared by heating ethanoic anhydride with 2-hydroxybenzoic acid, separation using vacuum filtration and recrystallisation as a purification technique.

Analytical Workshops: Years 12-13

To help students understand analytical techniques better, the we run a half day analytical workshop for schools and colleges. These visits take place on Wednesday afternoons and run throughout the academic year.

Students will be set the task of identifying an "unknown" compound from a list of six possibles, using data obtained by:

Nuclear magnetic resonance
Mass-spectroscopy
Infra-red spectroscopy

Starting with a welcome to the Department, students are split into groups and move around the various techniques, where they will have the opportunity to see samples run and to ask questions of the technical experts responsible for those instruments. The workshop concludes with students looking at all the available analytical data and working out the structure of the unknown compound. 
A world top-100 university
We're a world top-100 university renowned for the excellence, impact and distinctiveness of our research-led learning and teaching.