All of our modules have been designed to give you skills for your CV and experience you can talk about at job interviews, whether or not you want to pursue a career in science.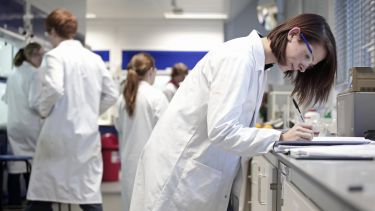 Accreditation
Our courses are accredited by the Royal Society of Chemistry, you can develop the practical skills and expert knowledge that every professional chemist needs. You can also learn about what makes a successful chemistry business and study the industrial processes used in the chemical industry.
You will grow in problem-solving, team working, fact-finding, data analysis, critical thinking, communication, project management and more.
Find out what our students think about their course
---
Year in Industry
If you do one of our Chemistry with a Year in Industry courses, you'll spend your third year working for a top organisation. You'll get even more experience to put on your CV, using your knowledge and skills to help businesses solve problems. Students on this course are often offered a graduate-level job when their placement finishes.
Skills For Success
Our Skills for Success training gives you a project to work on outside the lab. You'll run an activity such as giving a talk, presenting a poster, hosting a debate, producing a video for our annual SkillsFest event. It's a chance to showcase your ability to research a topic and communicate your findings, which many employers value.
Chemistry Careers Day
Every year, we host a careers day, where you can explore career options and meet with employers who hire chemistry graduates. Speakers often include our graduates. They're in a great position to provide hints and tips on how they got into their job, and give you a clearer picture of what you'd like to do after graduation.
---
After you graduate
Some of the biggest employers of our students are pharmaceutical companies, where chemists develop new medicines, and consumer goods companies, where they make lots of the products you see on supermarket shelves. Graduates can also go into industrial chemical labs creating the chemicals and materials that make large-scale manufacturing possible.
The science industry is more than just scientists though – big companies like Unilever and GSK need graduates who understand science to work in communications, market research and business development roles. Students on our MChem Chemistry with Study in Industry course are often offered jobs at the companies where they did their placement year.
If the lab is where you feel most at home, you could also work as a scientist at a university or research institute. To follow this path, many of our MChem students build on their fourth-year research project by staying with us for their PhD. Graduates can also stay connected to academia by working for scientific journals, publishing the latest research.
Sheffield is a World Top 100 University, and a good degree from a great university can take you far, whatever you want to do. Our graduates use their scientific minds in everything from finance to computer programming.
---
What our students say about their courses