Our students complete a comprehensive training programme to give them the analytical and problem-solving skills that a scientist needs. This helps our graduates get great jobs in the chemical and pharmaceutical industries, in chemistry research, or in an area outside science.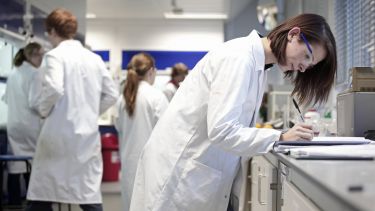 Off
What can I do with a chemistry degree?
As a chemistry graduate from the University of Sheffield you'll have lots of options open to you. Employers hire our graduates because of their ability to plan projects, analyse data and solve problems. The ones who stay in the lab often work on global challenges like climate change and antibiotic resistance, or help to develop innovative new technologies and processes. Others go on to great careers at cutting-edge start up businesses, major companies, charities and the Civil Service.
Applying chemistry
Chemists make things. Some of the biggest employers of our students are pharmaceutical companies such as GSK and AstraZeneca, where chemists develop new medicines, and consumer goods companies such as Unilever and Reckitt, who are behind many brands you'll recognise on supermarket shelves. Graduates also go to chemical companies such as Croda and Scott Bader, to create products that are central to many industries.
​​And the science industry doesn't only employ chemistry graduates in lab-based roles. These companies also need graduates who understand science to work in communications, market research and business development roles.
Beyond chemistry
A good degree from a great university can take you far, whatever you want to do. We have graduates using their scientific minds in everything from finance to marketing to computer programming.
Further study
If you're interested in postgraduate study, we'll help you to consider your options so you can specialise in an area you're fascinated by, learn new skills, or change direction. Some of our graduates choose to progress onto a PhD with the goal of becoming a researcher. Others begin postgraduate training in areas such as drug discovery, nanotechnology and renewable energy.
---
Opportunities to enhance your CV
Industrial Placement Year
A placement is a great opportunity to test out a career path that you're considering - whether that's within the field of chemistry or applying your transferable skills in a business setting. It'll give you experience of applying for jobs as well as interview practice, and will make you stand out once you graduate. You can do this as a recognised part of your degree with our Industrial Placement Year courses.
Our students have previously completed their placements with organisations including GSK, Reckitt, Scott Bader here in the UK, Merck KGaA in Germany and Huntsman Corporation in Belgium.
Skills For Success
Our Skills for Success training gives you a project to work on outside the lab. You'll run an activity such as giving a talk, presenting a poster, hosting a debate, producing a video for our annual SkillsFest event. It's a chance to showcase your ability to research a topic and communicate your findings, which many employers value.
Chemistry Careers Day
Every year, we host a careers day, where you can explore career options and meet with employers who hire chemistry graduates. Speakers often include our graduates. They're in a great position to provide hints and tips on how they got into their job, and give you a clearer picture of what you'd like to do after graduation.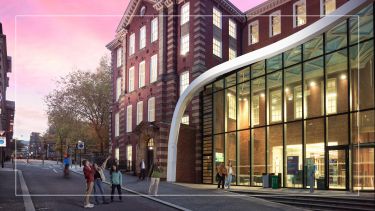 Visit us
Discover what sets Sheffield apart at our undergraduate open days on the Saturday 21 October or Saturday 18 November.