We run a range of undergraduate courses so that you can choose the degree programme that best matches your interests.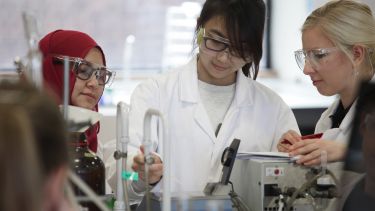 Teaching and learning changes for 2020-21
Due to the coronavirus pandemic we have made some changes to teaching and learning for some courses in the 2020-21 academic year.
Find out about teaching and learning changes
These pages will be updated regularly, so please check back for the latest information about your course.
Courses
---
Accreditation
All of our courses are accredited by the Royal Society of Chemistry, which means we cover all the topics and training you need to graduate into a professional chemistry career. You will also gain additional research experience and learn how to work independently.
Flexibility
It's possible to transfer between any of our courses up to end of your second year, and you can transfer between Chemistry MChem and Chemistry BSc well into your third year.
Read what our students say about their course
---
Chemistry courses
 Biological and Medicinal Chemistry courses
Year in Industry courses
Study Abroad
Foundation year
Our courses – 2020 entry
---
What our students say about their courses
Course search
Explore. Challenge. Influence. Find the right course for you.