Chemistry is a practical subject, so we make sure that you have all the training and equipment you need to develop the skills of a professional scientist.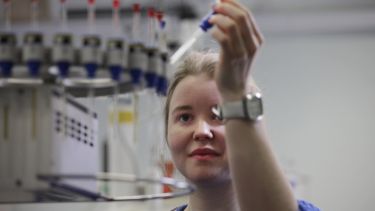 Our main home, the Dainton Building, and the Richard Roberts Building next door, have plenty of lecture and small group teaching spaces, as well as the labs where you'll train from the start of your degree and the world-class research facilities you can access later.
We're also just across the road from the award-winning library facilities at the Information Commons and The Diamond, and the UK's number one students' union, and a short walk from the city centre
Teaching laboratories
We have three large teaching labs where you'll spend a lot of time during your degree: one for organic chemistry, one for inorganic chemistry and one for physical chemistry. Each lab is equipped with specialist analytical equipment, including nuclear magnetic resonance (pictured above), infrared and ultraviolet spectrometry, and gas- and size-exclusion chromatography.
Lecture and tutorial spaces
Most of your lectures will take place in lecture theatres here in the department or close by on campus. All of our lectures are recorded so that you can return to them later. You'll also have small group teaching sessions in our seminar rooms and staff offices, so you can look at problems more closely, and there are meeting rooms you can book to work on group projects with other students.
Research facilities
Our recently refurbished advanced lab is dedicated to the group research project you'll complete in your third year, with large fume cupboards and workbenches to make collaborations easy. If you do a MChem degree, in your fourth year you'll be based in one of the specialist laboratories where our academic staff work on their research. These include our new advanced laser spectroscopy and small-angle X-ray scattering labs.
Computer facilities
Bookable computers are available in the department. There are also hundreds of computers available through the University's library services, including at The Diamond and the Information Commons which are open to all students 24/7.
Explore the University
Discover why Sheffield is the right choice for you at one of our open days or events.