There are dedicated scholarships for chemistry students at the University of Sheffield, to help eligible students fund their studies and enhance their learning experience.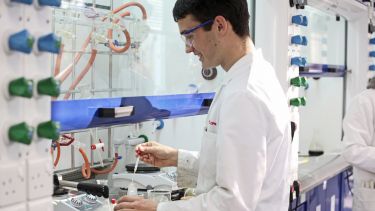 Ray Charlesworth Scholarships
Undergraduate applicants to the University of Sheffield can apply for an Experience Sheffield Scholarship worth £1,200 each year of their degree. Thanks to a generous endowment made by a former staff member, the late Ray Charlesworth, a number of additional scholarships in this scheme are guaranteed to go to students starting an undergraduate course in the Department of Chemistry.
Students who meet the eligibility criteria for an Experience Sheffield Scholarship, and who intend to study a course in the Department of Chemistry, should complete the standard Experience Sheffield Scholarship application process to be considered for one of the scholarships funded in Ray's memory.
Apply for an Experience Sheffield Scholarship
---
Chemistry undergraduate research scholarships
In this scheme, some of our undergraduate students can get even more lab experience with a paid summer research placement. Successful students will receive:
A paid six-week summer placement in one of our laboratories
An extra chance to put your research skills into practice, working with our academic staff
Even more work experience to include on your CV
How to apply
Students who are starting an undergraduate degree in the Department of Chemistry and meet the criteria will automatically be offered a placement to complete during the summer immediately before the final year of their course.
You need:
AAA or above at A level, or equivalent
To maintain an average grade of 70% or higher
---
Explore the University
Discover why Sheffield is the right choice for you at one of our open days or events.