Congratulations to Danny Smyl who has received £400k for the EPSRC project "Three-dimensional electrical tomography for imaging large concrete members"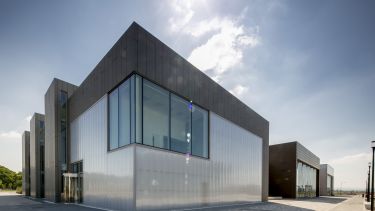 Electrical tomography is a method capable of imaging 3D structures, somewhat analogous to an X-Ray scan at the doctor's, except electrical fields are used to excite the target instead of harmful radiation. One of the most exciting aspects of the proposed tech is that 3D structures of any size can be imaged, rather than just the outside or small segments.
The PI and project lead Danny Smyl, who has been working in the field of applied mathematics and inverse problems for a number of years now - background needed to employ the imaging technique.  Alongside Danny, a PostDoc and Technician well facilitate large-scale structural experimentation at the new ICAIR centre.
The ICAIR centre is a national research facility that seeks to apply world leading research to the construction and infrastructure sectors, with the goal of delivering step changes in productivity and resilience.  The funded work fits within the latter goal of the ICAIR Centre.
The project aims to show that electrical tomography can be used for "seeing inside" structures in order to monitor their condition/health. From a scientific perspective, we want to simply understand the fundamental mechanics of concrete damage processes (many of which are still poorly understood).  It is expected that this funded work can open the door to follow on research, but also to provide the world with a feasible method for 3D imaging of concrete structures. 
Danny said 'The impact on the wider engineering and research community is an open question at this point.  However, there are few (if any) viable options for quantitatively visualising the inside of large concrete members.  This could be a game changer for non-destructive evaluation and health monitoring of reinforced concrete.'
We wish Danny and the team all the best with their project and will provide updates as and when we get them.
Our league table rankings
Top 100 in the world and 8th in the UK according to the QS World University rankings by subject (2021).
11th in the UK according to the Times University League Table (2021).
8th in the UK according to the Complete University Guide (2021).
Flagship institutes
The University's four flagship institutes bring together our key strengths to tackle global issues, turning interdisciplinary and translational research into real-world solutions.