Fatbergs and Fibre Optics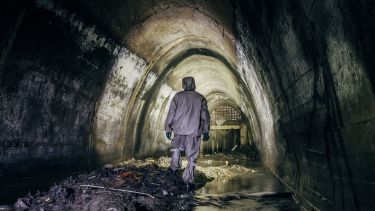 When you think of your broadband provision, sewers and fatbergs wouldn't necessarily spring to mind – but perhaps they should as both could benefit from a new innovation involving academics from the University of Sheffield.
That's because nuron, wastewater and systems experts based in London, have developed an innovative, dual-purpose fibre optic 'nervous system' for sewers, where blockages that could grow into 'fatbergs' are detected early – helping to avoid costly excavations.
Developed with the support of Professor Simon Tait, Department of Civil & Structural Engineering and Professor Kirill Horoshenkov from the Department of Mechanical Engineering as part of their involvement in the University's Pennine Water Group, this is the only dual-purpose technology of its kind.
It not only transforms existing sewer and wastewater monitoring capabilities but includes capacity for the integration of existing sensors and telemetry to create a comprehensive management network.
As it is based on optical fibres, this new technology could also enable a more cost-effective and efficient means of broadband roll out.
As Claire Fenwick, Managing Director at nuron explains:
"Our technology is the only dual-purpose system enabling real-time solutions for the impact of climate change, ageing infrastructure and urbanisation. It also reduces the cost of rolling full fibre networks; these are all very high priorities for the general public, asset owners, regulators and Government."
---
Since our inception, the University of Sheffield and in particular Prof. Kirill Horoshenkov and Prof. Simon Tait, have been an instrumental part of the success of nuron with both Professors valued members of our team of technical experts.

Claire Fenwick

Managing Director
---
"At nuron we do things differently, we continue to push boundaries in terms of what we understand and what we can do today. The University is very much aligned to this way of thinking, making them a perfect academic partner."
As Prof. Tait and Prof. Horoshenkov adds:
"Flooding of your house or garden is one of the worst events that can happen to a householder. Thousands of people suffer such events each year in the UK and this is often caused by blockages in sewers. 

"Blockages can occur intermittently and are very difficult to locate quickly. The technology developed by nuron allows water companies to continuously monitor the flows all along sewer pipes and rapidly identify any developing blockages, which can then be dealt with proactively.
"This rapid monitoring system has the potential to eliminate sewer flooding caused by blockages and prevent a negative impact on UK householders."
How it works:
Nuron technology gives sewer and wastewater operators the ability to not only monitor the 'down manhole' spot flow provided by current generation sensors but for the first time, continuous 'in pipe' condition and flow too.
By measuring multiple parameters at the same time, every 5m within a sewer network, it allows potential incidents to be rapidly localised, accurately diagnosed and resolved - averting customer, public or environmental impact.
Our league table rankings
Top 100 Civil & Structural Engineering department in the world and 9th in the UK according to the QS World University rankings by subject (2023).
8th in the UK according to the Complete University Guide (2023).
10th in the UK according to the Times University League Table (2023).