Dr Colin Smith
Department of Civil and Structural Engineering
Senior Lecturer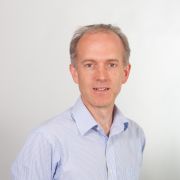 c.c.smith@sheffield.ac.uk
+44 114 222 5717
Room E106, Sir Frederick Mappin Building
Full contact details
Dr Colin Smith
Department of Civil and Structural Engineering
Room E106
Sir Frederick Mappin Building
Mappin Street
Sheffield
S1 3JD

Profile

My research focuses on the development of optimisation-based geotechnical analysis and design tools in order to make the best use of our resources and minimise environmental impact.

Dr Colin Smith

---

Colin Smith graduated from the University of Cambridge in 1987. He joined the Cambridge Soil Mechanics research group in the same year and completed a PhD in 1991.

Following two years as a research associate at Cambridge he joined the Department in 1992.

He is co-developer of the novel Discontinuity Layout Optimisation numerical method, which underpins many of the developments in his limit analysis and design optimisation work.

His experimental work has a strong basis in physical modelling, supported in particular by innovative digital imaging techniques.

His research at Sheffield has been funded by EPSRC, NERC and industry.

He is co-founder and director of University spin-out company LimitState Ltd, specialising in the development of novel ultimate limit state analysis and design software that rapidly analyses geotechnical constructions and predicts the conditions under which they would collapse.

The software is now in use by over 100 companies and ~240 Universities across the world.

---

Research Themes
Research interests

Colin's research aims to improve the design and efficiency of fundamental geotechnical structures, such as foundations, retaining walls, slopes/embankments and tunnels.

His work focuses on:

Limit analysis and optimisation in geotechnics: providing tools for engineers to identify critical collapse mechanisms and associated margins of safety.
Low-carbon geotechnical construction through numerical design optimisation and the application of low-impact construction techniques.
Masonry arch bridge analysis, modelling and assessment.
Identification methods providing new image based approaches for characterising soil properties.
Publications

Books

Journal articles

Chapters

Conference proceedings papers

Patents

Reports
Research group

Computational Mechanics & Design

Geotechnical Engineering Discipline
Grants

Exploiting the resilience of masonry arch bridge infrastructure

The goal of this project is to provide those responsible for the management of bridges with a powerful suite of analysis modelling tools and a robust overarching multi-level framework capable of being applied to the diverse population of masonry arch bridges in-service today (i.e. undamaged, damaged and repaired).

---

Practical 3D model of masonry arch bridges and tunnel linings

The decision support tools currently used by bridge owners and their consultants tend to be highly simplified, and incapable of identifying bridges which are likely to deteriorate under traffic loads, and of diagnosing the causes of a range of commonly encountered defects...
Potential PhD offerings

Unfortunately I am not seeking any PhD Students at this time, however please contact me if you are interested in doing a project in my research area.