The Rosetta Stone Network: Physical testing towards a common unstanding of debris flow
Debris flows, fast moving landslides comprised of rock, soil and water, are an increasing global hazard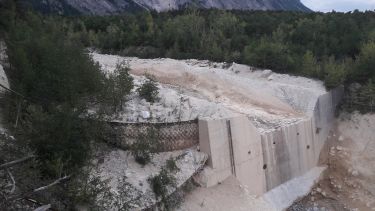 Off
Details
However, despite separate advances in the fluid mechanics, granular physics, earth sciences and geotechnical engineering communities, a holistic understanding of the mechanics of these complex flows remains elusive. This proposal aims to create a "Rosetta Stone" of communication between the disciplines through physical tests undertaken with common material characteristics, informed by monitored field events, leading to improved numerical models.
Partner institutions include: the University of Sheffield, UK (Lead); Queens University, Canada; IAN-BOKU, Austria; WSL, Switzerland, and Durham University, UK.
Results are being shared, interpreted according to the different paradigms adopted within each network discipline, and communicated via an open-access repository in order to better predict runout and impact loads via improved validation and calibration of numerical models.
Sponsor
LEVERHULME TRUST (THE)
Research Themes
Project Dates
Start Date : 01/02/2017
End Date : 31/07/2021 
People Involved
Dr Elisabeth Bowman
Nicoletta Sanvitale (PDRA)
Yuting Zhao (PhD)
Our league table rankings
Top 100 Civil & Structural Engineering department in the world and 9th in the UK according to the QS World University rankings by subject (2023).
8th in the UK according to the Complete University Guide (2023).
10th in the UK according to the Times University League Table (2023).
Flagship institutes
The University's four flagship institutes bring together our key strengths to tackle global issues, turning interdisciplinary and translational research into real-world solutions.