As a civil engineer, the work you do will have a direct and positive impact on people's lives, now and for future generations.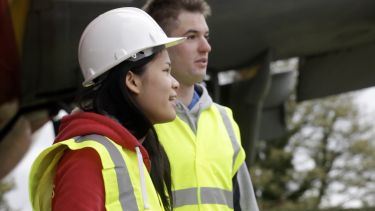 You'll be involved in projects that help create and shape the world, working at the forefront of inspiring and diverse developments. We work hard to ensure you graduate with skills that make you stand out in the jobs market.
We offer:
We're proud to be academic partners of the Institution of Civil Engineers (ICE).
---
The challenges and opportunities in Civil Engineering in the UK, and indeed worldwide, are breathtaking and can only grow as increasing demand is placed on the world's limited resources. I have been particularly impressed by the quality of students and teaching at Sheffield in the light of this.

Dr David Tonks

Edge Consultants UK Ltd
---
Work Placements
We've built up strong links with leading consultants, contractors and specialist engineering firms. Some of these companies offer structured, paid vacation work, which may lead to sponsorship for subsequent years of your course or job offers. The Faculty of Engineering's Year in Industry Team are a dedicated team of staff who can help you with finding a suitable placement.
Because industry input into our programmes is strong, students typically opt for work experience in the summer vacation. However, if you decide you'd like to take a Year in Industry, you can integrate this into your course.
Lucas did a summer placement in Malaysia with Sunway Construction.
Study abroad
You could spend part of your course – three months or a year – in Europe, America, Canada, Australia or Asia. This is a great way to show employers you're an independent and resourceful person.
Our league table rankings
Top 50 in the world and 7th in the UK according to the QS World University rankings by subject (2022).
8th in the UK according to the Complete University Guide (2023).
10th in the UK according to the Times University League Table (2023).
Explore the University
Discover why Sheffield is the right choice for you at one of our open days or events.