Aanchal Bhagwat
MEng student
MEng Architectural Engineering with a Year in Industry
2026
Aanchal is passionate about global environmental issues and came to Sheffield because of its reputation as a leading research university.
Why did you choose your course?
The idea of integrating the precision of engineering principles and functionality of design in the study of architectural engineering is what drew me to a career in this field. Engineering involves the manifestation of one's creative vision into structures that improve people's lives, which I find incredibly fulfilling.
What have you enjoyed most about your course so far?
I love the holistic curriculum that my course offers wherein I learn about the social, historical and economic aspects of buildings, materials selection, structural design and fluid engineering. This has helped me gain a well-rounded perspective and account for several factors when designing. I also enjoy lab sessions where I learn the practical applications of my theoretical learnings which enhances my understanding of engineering concepts. Lastly, Revit and Python have allowed me to further build my technical and creative skills.
What advice would you give to a younger student considering studying your course at university?
Do your research: Take the time to research the program, course modules, teaching staff, available resources and potential career paths after graduation. This will help you better understand what the program entails and help you decide if it is the right fit for you.
Take advantage of resources: The university has many resources available to help students including academic support, career counselling and mental health support.
Get hands-on experience: Look for opportunities to get involved in design projects, summer internships or research projects during your studies to gain practical experience and expand your professional network.
Stay motivated: The course is challenging and thus, very rewarding. Plan your studies well, set realistic goals, stay organized and ask for help when you need it.
The University of Sheffield experience combines world class teaching facilities with a lively social life which makes it an ideal choice for your degree. Performing lab experiments using professional equipment, learning from experts of different fields, taking part in activities and sports and joining societies are just a few of the many experiences you will be a part of so I guarantee that you will love your time here. If you need help at any point, don't hesitate to reach out to the SU. Step outside your comfort zone and take the plunge, you won't regret choosing Sheffield!
Why did you choose to study at Sheffield?
Firstly, The University of Sheffield has a top ranked Department of Civil and Structural Engineering and Architecture and is a leading research university. Secondly, the annual Global Engineering Challenge would help me develop transferable skills and the year in industry is a great opportunity for me to better understand the applications of my theoretical learnings in an industrial context. Lastly, being reputed in the UK for a fantastic Student Union, I looked forward to joining societies and having a balanced social life.
What are the best things about studying in your department?
The rich academic environment, fantastic staff and exciting labs.
What did you like most about the City of Sheffield? Has your time at Sheffield met your expectations so far? If yes, how?
Sheffield is a wonderful student-friendly city with stunning views and a dynamic social atmosphere. Scenic green spaces, a vibrant mix of music, art galleries and festivals and affordable transport, shopping and food make the city truly exciting to be a part of. Sheffield is also safe, has good transportation links and has a diverse, friendly and inclusive student population which makes it very welcoming.
Have you used any of the careers support services run by the university? If so, how have they helped you?
I have used the Careers Support for my summer internship applications. They have given me individual feedback on my CV and cover letter and suggestions to improve my applications. The one on one meetings were extremely helpful.
Are you in any student societies? What do you enjoy most about these activities?
I have been a First Year Rep and Outreach Officer of the Women in Engineering Society which has helped me develop a range of transferable skills, introduce engineering to kids through fun activities and workshops and be a part of a supportive community. I'm also a member of the Hindu and Indian Society and I love celebrating festivals and our culture as part of their events. There's a huge range of exciting societies to choose from that best suit your interests and goals and all societies are very welcoming and accommodating.
Where do you see yourself in the future?
I plan on working towards being professionally qualified as a Chartered Engineer in the coming years. I am passionate about global environmental issues related to sustainability in buildings, depletion of energy resources and promotion of green design in architecture. I would also like to explore the field of engineering psychology that focuses on improving technology, equipment and work environments to enhance human capabilities.
Our league table rankings
Top 100 Civil & Structural Engineering department in the world and 9th in the UK according to the QS World University rankings by subject (2023).
8th in the UK according to the Complete University Guide (2023).
10th in the UK according to the Times University League Table (2023).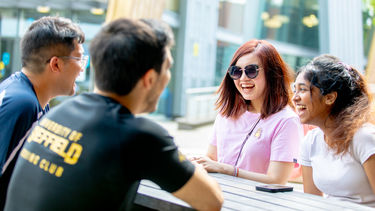 International Merit Scholarships
We offer a generous package of financial support for international students including 75 undergraduate scholarships worth £10,000 towards the annual tuition fee and 125 postgraduate taught scholarships worth £5,000 towards the tuition fee. Applications are now open for existing offer holders.