Connor Greenwood
Alumnus
MEng Civil and Structural Engineering with a Year in Industry
2023
Connor was able to complete a placement with Network Rail during his degree.
Why did you choose your course?
How, and more importantly, why, things are made has always peaked my curiosity. I wasn't sure what degree to choose after finishing my A-Levels, but I was certain it would involve producing creative solutions for difficult problems with the help of mathematics. Due to my passion with architecture, this led me down the path of civil and structural engineering.
What have you enjoyed most about your course so far?
What I've found most enjoyable about my civil and structural engineering course is the chance to work on projects that encourage creative thinking and problem-solving. Developing these skills is essential for success as an engineer, and the opportunity to explore different approaches to complex problems has been incredibly rewarding. Working collaboratively with my peers has also been a highlight of the course, allowing me to learn new skills and gain fresh perspectives on challenging problems. Finally, the hands-on experience of the course has made it both challenging and enjoyable, giving me the chance to apply what I've learned in a practical context and see the impact of my work in real-world situations.
What advice would you give to a younger student considering studying your course at university?
Civil and structural engineering presents numerous opportunities for creativity and innovation, allowing engineers to address important global issues and come up with unique solutions.
Where did you complete your placement year?
I was a Civil Engineer with Network Rail
Did you receive any assistance from the engineering placements team? If so, please can you detail how they helped you?
I was given helpful guidance on how to structure my CV in a way that will make it more effective, which I believe will increase my chances of landing employment opportunities in the future.
Please can you talk about the overall experience of taking part in your placement?
During my time at Network Rail, I had the opportunity to work with multiple teams, gaining exposure to various engineering disciplines, including civil, geotechnical, and structural engineering. This experience allowed me to explore different career paths and helped me clarify my future career ambitions. Additionally, attending numerous site visits gave me the chance to witness real-life engineering challenges and understand how they are addressed in practice, which was a valuable learning experience.
What skills have you gained from your placement year that you'll be taking with you into your studies and future career?
I have developed a range of skills during my studies and work experiences, including advanced structural analysis, research skills, proficiency in AutoDesk Robot for CAD, and practical skills gained through numerous site visits.
What are the best things about studying in your department?
In this department, there are plenty of opportunities to showcase skills in a creative and enjoyable manner. The lecturers are all highly knowledgeable and engaging, which has made learning about the subject even more interesting and rewarding.
What did you like most about the City of Sheffield? Has your time at Sheffield met your expectations so far? If yes, how?
One of the things I love most about Sheffield is the abundance of nature that surrounds the city. There are countless outdoor activities available right on your doorstep, and it's easy to get out and explore the surrounding areas. Personally, I enjoy spending time in the Peak District, whether that means going for a challenging hike or trying my hand at rock climbing.
If you are in your final year, have you got any plans for after you graduate - either in your career or otherwise?
I have secured a structural engineering position with a company I visited while on placement. However, I am potentially relocating abroad to also continue with engineering.
Where do you see yourself in the future?
I am passionate about developing innovative and distinct engineering solutions that can benefit the companies I work for. Looking towards the future, I envision myself running my own business, bringing creative engineering solutions to clients worldwide.
Our league table rankings
Top 100 Civil & Structural Engineering department in the world and 9th in the UK according to the QS World University rankings by subject (2023).
8th in the UK according to the Complete University Guide (2023).
10th in the UK according to the Times University League Table (2023).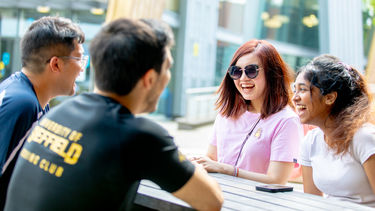 International Merit Scholarships
We offer a generous package of financial support for international students including 75 undergraduate scholarships worth £10,000 towards the annual tuition fee and 125 postgraduate taught scholarships worth £5,000 towards the tuition fee. Applications are now open for existing offer holders.