Anna
MEng Civil & Structural Engineering
I love staying busy and I can't imagine spending my time at university any better!
Read about a typical day as a student
I'm a third year Civil and Structural Engineering student from Warsaw, Poland. I always wanted to study abroad, and the University of Sheffield was an obvious choice given its prestige around the world. 
I have thoroughly enjoyed my university experience since I started my course in 2019. I've been involved with many societies such as Women in Engineering, Sheffield Space Initiative (Project MarsWorks) and the University Tennis Club. I had lots of opportunities to gain hands-on, technical experience in the first 2 years of my course and this year focuses on applying the knowledge I gained into real life scenarios.
Despite having a lot going on already, I still manage to work part time as a student ambassador and a server at various students' union outlets. I make sure to socialise with my friends everyday to maintain a healthy work-life balance. I love staying busy and I can't imagine spending my time at university any better! Below is an example of how I spend a day.
---
7:30am Wake up and start getting ready for the day. Go to the kitchen and make myself some tea and breakfast.
8:30am Set off to go to lectures with some of my housemates who also happen to be on my course. I live in a shared house about 20 minutes away from the Diamond. This year especially, my lectures are spread all around the campus, so I get to explore a lot of new buildings!
9:00am Attend lectures and tutorials for around 2-3 hours. The lecturers introduce pieces of new material that builds on what I've learnt in the previous years. There is a strong emphasis on everyday applications of the concepts we discuss. We are given real-life problems to solve during tutorials which builds up my confidence in understanding the material.
11:00am To make the most out of my time on campus, I do some of my maths mentoring work when I get a longer break between lectures. I meet up with one of my mentees (first year civil engineering students) to discuss any issues they may have had and see whether I can help them or point them in the right direction.
1:00pm Time for a lunch break! I usually have something that I had prepared myself the day before, but occasionally I like to treat myself to a New Leaf wrap. I like to sit down in the Engineering Heartspace café with my course mates, it's probably my favourite space on the campus. I always bump into friends over there so it's a great place to socialise.
2:00pm A meeting for one of my on-going group projects. We meet in one of the bookable study spaces in the Diamond and discuss any updates, issues or progress.
3:00pm Cover shift at one of the Students Union outlets. I work part time and like to take up a few hour shifts if they become available and I have a few hours to spare.
5:00pm A well-deserved break. I sit down in the Diamond Reference Library and plan for the next day. I go through some of the lecture material or attempt tutorial questions with my friends.
6:00pm Project MarsWorks weekly meetings to catch-up with all the sub-teams. As the project leader it is my duty to ensure everything goes according to plan within the project. I lead the weekly meetings with the operations sub-team and the other team leads.
8:00pm Socials! Balance is key so I make sure to have some fun with either friends or some of the societies I'm a part of. We usually go to Bar One because that's where the fun is and their veggie burgers are to die for.
10:00pm Time to go home and get ready for the next day. I shower, tidy up and if it's not too late I do some meal preparation. I put on a show and relax before bed.
11:30pm Finally, it's time to sleep and get ready for what the next day has in store!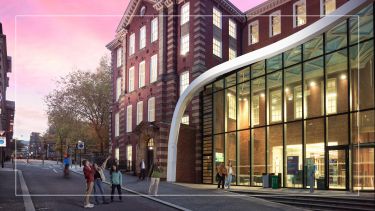 Visit us
Discover what sets Sheffield apart at our undergraduate open days on the Saturday 21 October or Saturday 18 November.