A day in the life - Sejal

Sejal Rahman
MEng student
MEng Civil Engineering
There is something to be said about the way I have been taught to apply my theoretical understanding of concepts to everyday life.
I'm a first year Civil Engineering student from Dhaka, Bangladesh. Having always wanted to study abroad and immerse myself in new cultures, I couldn't be more thankful for the experience and insight gained here in Sheffield.
Since last September, I have acquired a treasure-trove's worth of knowledge thanks to my course. Beyond the academic rigours of engineering, there is something to be said about the way I have been taught to apply my theoretical understanding of concepts to everyday life. I find myself looking at the integrity of structures on the commute from my accommodation to campus, and feeling a sense of accomplishment when I can actually recognise something taught in class in the real world.
The most important habit I have tried to maintain is a good work-life balance. I try to engage with the events on campus, along with my studies. There's a satisfaction in keeping busy that cannot be mimicked by anything else for me, and I absolutely love every second I spend on campus with my friends.
---
7:30am This is my usual wake-up time. I find getting up early helps me start my day best, as I don't have to rush. I always prepare a cup of coffee and like to eat a nutritious breakfast. I also prepare lunch on days I feel especially productive.
8:10am Set off to go to lectures – I live in the Endcliffe Student Village and my commute is full of lush trees and other students.
9:00am This is when most lectures and tutorials start. Most of the time my lectures are situated in The Diamond so there's not much moving around for me, which personally helps me build a disciplined routine of going to the Diamond Library after class to continue revision or finding a booth to study in with my friends.
12 noon This is usually the time my lectures for the day end. If I have no tutorials after this, I will usually find myself looking for a booth to study in, or grabbing a seat in the Silent Study areas found in libraries over campus for some individual study.
1:00pm Lunch break! My favourite places to eat lunch with my friends on campus include The Engineering Heartspace, Diamond Kitchen or – on days when the weather is good – in Weston Park, on the green grass. I try to prepare lunch for myself as much as I can, but on the days that I feel like I deserve a treat, my friends and I hit West Street for some good food – and it's a two-minute walk to some of my favourite lunch spots in town.
2:00pm Some days, I have some more tutorials at this time – other days I am back in the library for some revision, especially during exam season.
6:00pm This is my time for a break. I like to unwind now, and plan the next few days (on Notion – which I highly recommend). I also like to take this time to catch up with friends and discuss other coursework with them.
8:00pm Time to relax with socials! As the new Publicity and Media Officer for the Women in Engineering Society, I cannot wait to meet my fellow committee members and new members and get to know them. I also like to hit town with my friends – our favourite place for dinner is usually Let's Sushi.
10:00pm The most relaxing time of day – I am back home by now, have made and had dinner, and am winding down with my favourite show (Succession).
11.30pm For the grand finale - it's time to sleep!
Our league table rankings
Top 100 Civil & Structural Engineering department in the world and 9th in the UK according to the QS World University rankings by subject (2023).
8th in the UK according to the Complete University Guide (2023).
10th in the UK according to the Times University League Table (2023).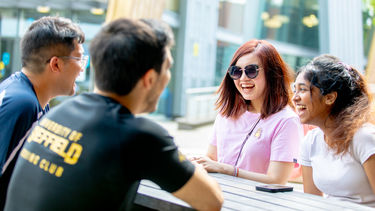 International Merit Scholarships
We offer a generous package of financial support for international students including 75 undergraduate scholarships worth £10,000 towards the annual tuition fee and 125 postgraduate taught scholarships worth £5,000 towards the tuition fee. Applications are now open for existing offer holders.