Hasan Shwaish
MEng Student
MEng Architectural Engineering
Hasan has always been interested in improving the built environment, that's why he joined our MEng Architectural Engineering course which offered him a blend of skills and knowledge to be able to understand buildings in a holistic manner.
Why did you choose your course?
Having been born and raised in Basra in Iraq, once a global city with great heritage and now facing substantial urban challenges, I was always interested in improving the built environment. Architectural Engineering is a multidisciplinary degree which offers a blend of skills and knowledge to be able to understand buildings in a holistic manner. This really appealed to me as I felt that it will give me the power to make a substantial difference in the world we live in. I also thought that studying a variety of subjects at one time makes studying more fun!
What have you enjoyed most about your course so far?
It is always a satisfying moment when I come up with an integrated design solution which I can justify from the viewpoints of a few disciplines. An example of when I encountered many of these moments is the Integrated Design Project (IDP). With IDP being a third-year module, I felt that I was harvesting the fruits of my labour studying some modules which felt rather theoretical in the first two years of university.
What advice would you give to a younger student considering studying your course at university?
Go for it! It is a great course which sets you up with fundamentals in different fields (e.g., structural, environmental, and building services engineering). You will have the choice of going more in-depth with any field of your choosing, but the knowledge of all aspects of a building makes you a unique professional who is able to come up with integrated designs and have informed conversations with most people working on the built environment and beyond.
Why did you choose to study at Sheffield?
Unique course, excellent university, and beautiful city! Coming from an international background, Sheffield has a far-reaching reputation and is highly ranked across all subjects which form part of Architectural Engineering (mechanical engineering, civil and structural engineering, and architecture).
What are the best things about studying in your department?
There are academics researching on scales from details of steel connections to nation-scale urban planning, in addition to those who come from diverse industrial backgrounds. They are all passionate about the work they do and love to share their knowledge and experience with students. I enjoy having these conversations with academics, and find that they push the limits of my knowledge and fuel my curiosity.
What did you like most about the City of Sheffield? Has your time at Sheffield met your expectations so far? If yes, how?
Sheffield is big enough that there is always something happening, I can find anything I need, and can access the rest of the country easily. However, it still has a certain "village feel" to it; people are so friendly and there is a lot of greenery everywhere you go.
Have you used any of the careers support services run by the university? If so, how have they helped you?
I have used Careers Connect to find work opportunities, including part-time work at university which then contributed to my skillset going into industry-specific summer placements. My Academic Tutor has also helped me write a convincing CV and weave my thoughts about my future career journey.
Are you in any student societies? What do you enjoy most about these activities?
Being a member with USIC (University of Sheffield Islamic Circle) has supported my faith and contributed significantly to my wellbeing whilst studying at university.
Where do you see yourself in the future?
I see myself focusing on optimizing buildings' performance and sustainability. I think that I will be well-placed with my interdisciplinary knowledge to look at a building holistically and work with professionals from various disciplines to create a building which works better for people, cities, and the planet.
Our league table rankings
Top 100 Civil & Structural Engineering department in the world and 9th in the UK according to the QS World University rankings by subject (2023).
8th in the UK according to the Complete University Guide (2023).
10th in the UK according to the Times University League Table (2023).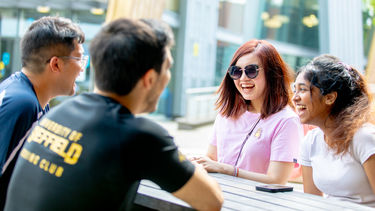 International Merit Scholarships
We offer a generous package of financial support for international students including 75 undergraduate scholarships worth £10,000 towards the annual tuition fee and 125 postgraduate taught scholarships worth £5,000 towards the tuition fee. Applications are now open for existing offer holders.