Lawrence Copestick
MEng student
MEng Architectural Engineering with a Year in Industry
2025
Lawrence chose Architectural Engineering because it gave him an opportunity to pursue an interdisciplinary degree.
Why did you choose your course?
Having looked at the department's wide range of courses, I really liked the idea of having an interdisciplinary engineering degree. Architectural Engineering gives me the option to do civil, structural, building services and mechanical engineering in future, keeping my options open and making me more versatile in the workplace.
What have you enjoyed most about your course so far?
Alongside the excellent teaching and learning I really like the people here, both students and staff. The staff are very approachable, supportive and passionate about the subject, and the other students are very down to earth and are always willing to help each other out.
What advice would you give to a younger student considering studying your course at university?
I highly recommend it, its great being on a niche course! The blend of civil,  structural and mechanical engineering alongside architecture content you learn gives you a really unique perspective.
Why did you choose to study at Sheffield?
I first noticed Sheffield after seeing it repeatedly at the top of university league tables. After visiting the university and finding out more about my course, the people and the city generally I became very found of it. I had also heard from my school teachers that most of the people that they know that went to Sheffield ended up staying there since it is such a nice place, I can clearly see why!
What are the best things about studying in your department?
The department is great for many reasons, one of them being that they really care about you. They are very responsive to feedback and put in a lot of effort to ensure our learning stays at the leading edge and will serve us well in the future. 
Being such a big department, there are a lot of staff to support you, all of who are very passionate and approachable.
What did you like most about the City of Sheffield? Has your time at Sheffield met your expectations so far? If yes, how?
I love Sheffield! It is a great city which is very safe, affordable, and student friendly. There are lots of green spaces to get away from the busyness and the peak district is well within reach. The city has everything you would need in it, while also being walkable, so you don't spend your time or money on transport.
Have you used any of the careers support services run by the university? If so, how have they helped you?
The Careers Service has helped me to develop my CV. I had a 1 to 1 session with one of the careers service team and they helped me to identify exactly what areas of my CV I should improve and the best way of communicating my achievements. They were exceptionally friendly and helpful.
Are you in any student societies? What do you enjoy most about these activities?
The vast number of societies here are one of the reasons why the University of Sheffield is so great. There is absolutely something for everyone to enjoy and the Students Union is amazing at providing resources for setting up and running your own society. 
I am in the Civil Engineering Society, the Architeers Society along with the Boxing, Dodgeball and Fell Running Sports clubs. Joining societies is a great way to socialise with people across university departments and grow your friendships. It is also a great way to de-stress and important in remaining fit and healthy.
Where do you see yourself in the future?
In future, I am hoping to gain valuable experience in my industry and climb the leadership ladder. Hopefully, I will then be able to start my own business where I can innovate and make a real positive difference to the world.
Our league table rankings
Top 100 Civil & Structural Engineering department in the world and 9th in the UK according to the QS World University rankings by subject (2023).
8th in the UK according to the Complete University Guide (2023).
10th in the UK according to the Times University League Table (2023).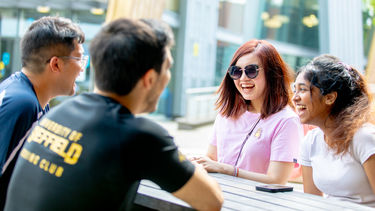 International Merit Scholarships
We offer a generous package of financial support for international students including 75 undergraduate scholarships worth £10,000 towards the annual tuition fee and 125 postgraduate taught scholarships worth £5,000 towards the tuition fee. Applications are now open for existing offer holders.