One of our greatest resources is our students. With a total student population of 19,000 undergraduates and over 6,800 postgraduates, we play an important part in training tomorrow's workforce.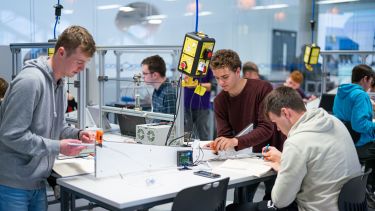 Off
Graduate recruitment
There are a number of good reasons for targeting our students and graduates.
Some of these relate to our reputation as an institution – we are proud of our global standing, our excellence in both teaching and research, and our links with business and industry.
Others relate to the quality of our students and graduates, not just in terms of academic excellence but also because of the skills and qualities they can offer employers.
The Careers Service is keen to develop links with employers interested in recruiting our students. It offers a number of services to employers, from advertising vacancies through to providing information and advice to organisations wishing to establish or strengthen their profile amongst our students.
Funding a PhD project
Many organisations choose to sponsor a top quality PhD student to work full-time on a three or four-year programme of research that is specifically relevant to their business.
In return for effectively covering the cost of the student's fees, consumables, support costs, and an appropriate stipend, you take the lead in defining the scope of the research project to ensure it is relevant to your priorities.
We will set up an agreement with you detailing requirements such as intellectual property, which you may be able to own and exploit to your benefit.
If you are interested in funding a PhD student, staff in our gateways will be very happy to discuss your needs and to put you in contact with a relevant academic.
A global reputation
Sheffield is a research university with a global reputation for excellence. We're a member of the Russell Group: one of the 24 leading UK universities for research and teaching.