Learning from COVID-19 Efficient Trial Adaptations
A sequential, mixed methods study funded by the National Institute for Health Research (NIHR), aiming to identify adaptations to trial recruitment and follow-up processes that have the potential to improve the efficiency of future clinical trials.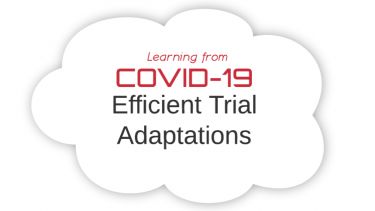 On
Many routine health care appointments, which were once undertaken face-to-face, were undertaken remotely (i.e., over the telephone or via video call) due to the social distancing rules put in place during the COVID-19 pandemic. Face-to-face appointments have, in the past, been used to recruit patients to clinical trials, or collect their follow-up data during a clinical trial. Therefore, many clinical trials had to adapt their procedures in order to carry on during the pandemic. 
The need for trials to attempt to reduce in-person contact presents a rare opportunity to study novel adaptations in trials. It seems likely that post-pandemic healthcare will change and remote contact may become the new normal - clinical trials will need to adapt. Therefore, guidance is needed in order to assist CTUs and to inform the efficient design of trials post pandemic. 
The aim of this project, which has been funded by the NIHR CTU Support Funding stream, was to find out how clinical trials have adapted to the pandemic, specifically focussing on the recruitment, intervention delivery and follow-up of trial participants. The overall aim was to identify adaptations that have the potential to improve the efficiency of future clinical trials. The project produced guidance documents to assist CTUs in improving the efficiency of clinical trials – these can be downloaded below.
The guidance documents, detailing the methods, results, and conclusions of the study, can be downloaded below. There are two versions of the guidance documents:
Summary guidance document 
Detailed guidance document
If you have any questions, please contact the project lead:
Robin Chatters – r.chatters@sheffield.ac.uk, 01142222969
Robin Chatters - Sheffield Clinical Trials Research Unit, The University of Sheffield
Professor Cindy Cooper - Sheffield Clinical Trials Research Unit, The University of Sheffield
Professor Chris Burton – School of Health and Related Research, The University of Sheffield
Professor Alicia O'Caithain - School of Health and Related Research, The University of Sheffield
Professor Athene Lane - Bristol Trials Centre, University of Bristol
Caroline Murphy - King's Clinical Trial Unit, King's College London
Angela Cape - King's Clinical Trial Unit, King's College London
Professor David Torgerson - York Trials Unit, The University of York
Professor Jane Nixon - Leeds Clinical Trials Unit, The University of Leeds