Primary care and the community
Our research explores the importance of primary care and the community for people with dementia and their friends, families and carers.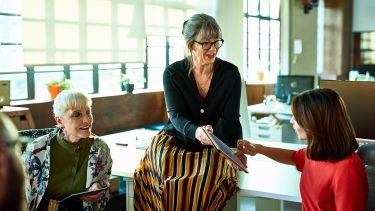 Off
The Alzheimer's Society reports there are over 920,000 people living with dementia in the UK today. Whilst research into treatments for dementia are vital, it is increasingly important to support people living with dementia through primary care and community care.
Studies have shown how improving front line care can impact people with dementia and their families and carers. Recent research has suggested that phrasing of requests by hospital staff could affect whether a patient accepts care. Studies have found that care home managers and staff need more support to improve care. Initiatives that offer more social interaction, personalised activities, and exercise can improve quality of life and reduce agitation and other symptoms of dementia.
At the University of Sheffield, our research focuses on primary care and the community. We take a population health perspective and areas of focus are:
primary medical care (GPs, nurses, physios, pharmacists, occupational therapists, dieticians)
primary care research
primary care research-delivery
residential care homes, nursing homes
carers, families, friends
dementia-friendly organisations and places.
---
Our research
AUPMC (Academic Unit of Primary Medical Care)
We are developing a programme of applied research that links our research expertise in health care delivery and one of our research themes 'translational neuroscience'. In AUPMC we are investigating difficult decisions in dementia. Our current studies include:
Support needs of family carers making health care decisions for people with dementia: a systematic qualitative review and framework synthesis. Researchers are conducting a framework analysis using House's Typology of Social Support (Emotional, Informational, Instrumental). Researchers: Dr Victoria Hodges, Dr Sam Lassa, Dr Cate Hynes and Dr Caroline Mitchell.
A qualitative study exploring the experiences of family carers who have been involved in making proxy decisions about the treatment of a new cancer for someone already living with dementia. This research includes interviews with adult family carers of people with dementia who had been involved in cancer treatment decisions on behalf of a relative with dementia in the last 2 years. Results provided major themes which were: 1) emotional impact of a diagnosis of cancer on the carers, 2) priorities and concerns when making proxy decisions about cancer treatment, 3) decision making preferences. Researchers: Dr Cate Hynes, Professor Lynda Wyld, Dr Victoria Hodges and Dr Caroline Mitchell.
GPs' difficult decisions about acute illness in people with dementia, with particular reference to Covid-19. This study will frame the analysis within a model of micro-politics – in which actions about a specific issue arise from discussion and negotiation between different agents during which trade-offs and compromises may be made in search of a solution. Researchers: Dr Sam Lassa, Professor Chris Burton, Dr Jon Dickson.
Dementia Futures
The Dementia Futures conference is an annual event that enables members of the public to find out about  dementia research at the University of Sheffield. At the conference, PhD students from across the University are asked to present their dementia research to the public. The event facilitates valuable discussion between researchers, PhD students and those affected by dementia to help inform the research.
To find out more about dementia futures contact Dr Julie Simpson
National Institute for Health Research (NIHR) Clinical Research Network (CRN)
We collaborate with the NIHR CRN Yorkshire and Humber (Dementia and Neurodegeneration) on recruitment to research studies and research delivery at NHS and community sites. This includes primary care, secondary care and innovative collaborations between both sectors.  Key contacts within the CRN are listed below.  
Dr Dan Blackburn, Specialty Research Lead (University of Sheffield), Dementia and Neurodegeneration
Professor Oliver Bandman, Specialty Research Lead (University of Sheffield), Dementia and Neurodegeneration
Dr Gregor Russell, Specialty Research Lead (Bradford), Dementia and Neurodegeneration
Srdjan Ljubojevic, Research Delivery Manager, Dementia and Neurodegeneration, NIHR Clinical Research Network
Key academic staff
Partner with us
We are proud to work in collaboration with other organisations and seek new and exciting opportunities to further enhance our research.
To find out more contact Dr Jon Dickson.
---
Local community funding opportunities
Dementia Small Grants are open!
The Dementia Small Grants round is a branch of the Let's Build Health Grants, and are available to help create opportunities and develop local activity that improves health and wellbeing for people living with dementia and their carers.