The number of people living with dementia in the UK is expected to rise to 1.6 million by 2040. We are uniting researchers in our flagship Neuroscience and Healthy Lifespan Institutes to advance dementia research.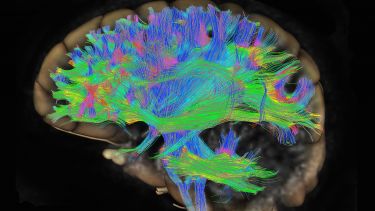 The term dementia refers to a group of different brain disorders that trigger a loss of brain function. These conditions are all usually progressive, severe and terminal. There is currently no cure.
Our dementia research is internationally recognised and brings together clinicians, scientists and researchers from multiple disciplines. We partner with patients and carers to enhance our research and ensure it is relevant and translational.
Research expertise
At the University of Sheffield our experts carry out research into many aspects of dementia, from developing new models of disease using cells taken from patients with Alzheimer's to new diagnostic testing and helping people live full lives with dementia.
Our pre-clinical research is working to understand the underlying mechanisms of dementia so that we can identify new targets for therapies.
Our interdisciplinary research focuses on the accurate and early detection of all types of dementia, and improving treatments for patients.
Multimorbidity refers to the presence of two or more chronic conditions. Our research is looking at the effects of ageing on dementia and how other diseases present alongside it.
Social research
Our applied health and psychology research is examining the social factors of living with dementia.
Our research explores the importance of primary care and the community for people with dementia and their friends, families and carers.
We are advancing technology to develop devices that can benefit people with dementia - particularly in their own homes.
We are using methods including mathematical modelling, machine learning, artificial intelligence to advance dementia research.
Research at Sheffield
Our interdisciplinary research centres carry out a wide variety of dementia research.
Flagship Research Institutes
The Neuroscience Institute brings together internationally recognised expertise in medicine, science and engineering to improve the lives of patients and families affected by neurological, sensory and developmental disorders.
The Healthy Lifespan Institute focuses on improving health across the life course by preventing multimorbidity – the presence of two or more chronic health conditions – and age-related frailty.
---
Research centres
The Centre for Assistive Technologies and Connected Healthcare (CATCH) brings together expertise across health, engineering, psychology and computer science to research user-friendly technologies to enable people to live independently.
The Sheffield Institute for Translational Neuroscience (SITraN) is one of the world-leading centres for research into neurodegenerative disorders such as motor neurone disease, Parkinson's and Alzheimer's.
---
Research groups and networks
Translational Neuropsychology Group
Department of Neuroscience, University of Sheffield
Conducts research on the neuroscientific, clinical and behavioural aspects of neurodegenerative and neurological disorders.