Ageing and multimorbidity
Multimorbidity refers to the presence of two or more chronic conditions. Our research is looking at the effects of ageing on dementia and how other diseases present alongside it.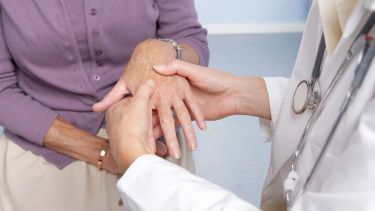 Off
As the global population ages, the prevalence of both dementia and multimorbidity increase. Multimorbidity occurs in a large number of dementia patients. Some chronic conditions, including diabetes and heart disease, are also associated with an increased risk of dementia. Therefore, we need to further our understanding of the relationship between ageing, multimorbidity and dementia.
Our researchers aim to understand whether, and how, multimorbidity and ageing affect the onset and progression of dementia. We are investigating the biological mechanisms which underlie these interactions. This research may lead to the identification of novel targets for therapy. By understanding the links between ageing, multimorbidity and dementia, we aim to develop new treatments and approaches to increase healthy ageing.
Our researchers utilise a wide range of approaches from across the sciences, social sciences, engineering and medicine to advance their research.
---
Our research
Investigating how cardiovascular disease affects the progression of early dementia in preclinical models
Our researchers are examining the interactions between heart disease and dementia. We have developed preclinical models which develop features of both Alzheimer's disease and cardiovascular disease. An increase in neuroinflammation, observed when the two conditions were combined, may contribute to the progression of Alzheimer's disease.
Contact: Dr Jason Berwick
The Neuroimaging in Cardiovascular Disease (NICAD) network
Using a novel zebrafish model of neurovascular coupling, our researchers demonstrated that the negative effects of high glucose on neurovascular function were reversed by application of an NO donor, suggesting a potential therapeutic strategy for diabetes-associated neurovascular dysfunction.
Contact: Dr Clare Howarth
Our researchers have demonstrated that, in a young model of Alzheimer's disease, breathing 100% oxygen can increase brain blood flow. This could offer a strategy to counter the changes in brain blood flow which occur early in Alzheimer's disease.
Contact: Dr Jason Berwick
Our researchers are developing software tools for MRI image processing. The aim is to identify novel, haemodynamic-based, disease biomarkers in a clinical cohort with type 2 diabetes mellitus.
Contact: Dr Chris Martin
Epidemiological Neuropathology – Investigating the Pathological Basis of Dementia
Alzheimer's disease, vascular dementia and Lewy body disease are the commonest causes of dementia in the over 65s. However, these pathologies do not explain all of dementia and other factors are likely to be important. These include additional types of pathology, the effects of ageing on brain cells and response of cell types such as microglia and astrocytes that can produce an inflammatory response in the brain. In the elderly population, these pathologies and processes commonly coexist so that dementia can be the result of interacting factors.
Our group studies the neuropathology of dementia in a brain donation cohort from the Cognitive Function and Ageing Study, or CFAS (www.cfas.ac.uk). This cohort is representative of the over 65 yr old UK population and allows us to study the variation of various pathologies in the population, how they relate to and explain dementia and the role of combinations of factors, or multimorbidity in dementia. This approach can produce better models of dementia and identify new potential new targets for experimental investigation and treatment.
These studies are a collaboration between neuropathology in Sheffield (led by Prof S Wharton and Dr J Simpson), biostatistics in Newcastle (Prof F Matthews) and epidemiology in Cambridge (Prof C Brayne). Our on-going areas of research interest include:
1. Investigation of the classical neuropathological lesions, including tau and Abeta pathology, and of vascular pathology including the role of microinfarcts.
2. The role of neuroinflammation, particularly the role of astrocytes. A current Alzheimer's Society funded PhD studentship is investigation variation in the response of astrocytes to different types of Abeta. 3. The impact of type 2 diabetes on the brain.
4. White matter pathology. Our recent work here has examined neuroinflammation in white matter and has demonstrated variation in the pattern of inflammation.
5. The role of senescence, and ageing and stress related process that produces "zombie cells" that do not function and that can also drive inflammatory changes. A current Alzheimer's Research UK funded project is examining whether senescence itself can contribute to dementia. Our methods include tissue based methods, such as histology, immunohistochemistry and
transcriptomics, linked to epidemiology and statistical modelling.
Contact: Prof Steve Wharton
Key academic staff
Partner with us
We are proud to work in collaboration with other organisations and seek new and exciting opportunities to further enhance our research.
To find out more contact Dr Clare Howarth.
Key publications

O Shabir, P Sharp, MA Rebollar, L Boorman, C Howarth, SB Wharton, SE Francis, & J Berwick (2020) Enhanced Cerebral Blood Volume under Normobaric Hyperoxia in the J20-hAPP Mouse Model of Alzheimer's Disease. Sci. Rep. 10:7518 doi: 10.1038/s41598-020-64334-4

K Chhabria, K Plant, O Bandmann, RN Wilkinson, C Martin, E Kugler, PA Armitage, PL Meza Santoscoy, VT Cunliffe, J Huisken, A McGown, T Ramesh, TJ Chico, C Howarth. (2020) The effect of hyperglycemia on neurovascular coupling and cerebrovascular patterning in the zebrafish. J. Cereb. Blood Flow Metab. 40: 298-313 doi: 10.1177/0271678X18810615

K Chhabria, A Vouros, C Gray, RB MacDonald, Z Jiang, RN Wilkinson, K Plant, E Vasilaki, C Howarth, TJA Chico. (2019) Sodium nitroprusside prevents the detrimental effects of glucose on the neurovascular unit and behaviour in zebrafish. Dis Model Mech 12:dmm039867. Doi: 10.1242/dmm.039867
Flagship institutes
The University's four flagship institutes bring together our key strengths to tackle global issues, turning interdisciplinary and translational research into real-world solutions.