Saving Sheffield's white-clawed crayfish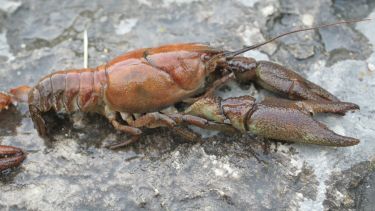 Project background
The UK native white-clawed crayfish (Austropotamobius pallipus) crayfish is under considerable pressure throughout the UK from the invasive American signal crayfish and a fungal pathogen (crayfish plague) that it carries. Until recently there were sites with remaining populations of white-claw crayfish in Sheffield, but one of those is now extinct and the other vulnerable.  If no action is taken the white-clawed crayfish populations in Sheffield could become extinct in the next few years.
The key partners in the project to save Sheffield's native crayfish were brought together as the Sheffield Crayfish Working Group, who's members are drawn from a range of conservation organizations in the Sheffield District.
The Crayfish Action Sheffield project aimed to document, monitor and conserve Sheffield's important native crayfish populations through habitat enhancement, public education and the creation of bio-secure 'Ark' sites. 
Project aims
To survey current populations of white-clawed and non-native signal crayfish
To raise awareness of the importance of the conservation of white-clawed crayfish among the general public and waterways users
To engage with and train volunteers in crayfish conservation.
To record data on the spatial and temporal distribution of white-clawed and non-native crayfish in Sheffield and to disseminate these data to interested organizations.
To identify off-line water bodies to act as 'Ark sites' for safeguarding the native crayfish population and create Ark populations.
Key outcomes
The distributional data have provided valuable information on where to prioritize conservation efforts for white-clawed crayfish.
The University of Sheffield carried out monitoring of crayfish populations in particular Sheffield rivers, including documenting the extinction of one population.
The project engaged with over 40 volunteers and has provided training in survey methods, identification and data handling. Several volunteers have been involved in translocation work.
The project delivered numerous talks and attended public events. Levels of awareness have been raised, especially amongst angling groups.
Spatial and temporal mapping of crayfish records were done by Sheffield City Council Ecology Service.
The project investigated, and set up a number of ark sites. The long term monitoring of these Ark sites will be an important  legacy of the Crayfish Action Sheffield project.
Additional details
Funding: The Esmée Fairbairn Foundation
Acknowledgements: The Esmée Fairburn Foundation provided funding for the initial Crayfish Action project (now complete) and currently The Sheffield and Rotherham Wildlife Trust coordinates the Crayfish Working Group.
Flagship institutes
The University's four flagship institutes bring together our key strengths to tackle global issues, turning interdisciplinary and translational research into real-world solutions.