Population and breeding dynamics of dippers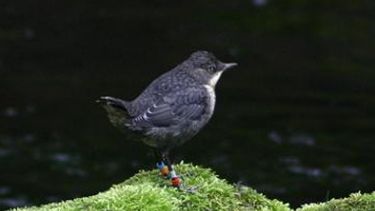 Project background
This study forms the basis of a PhD undertaken in the Department of Animal and Plant Science by PhD student Khaled Etayeb between 2007 and 2011. The aim of the project was to quantify the birth, death and dispersal rates for a population of dippers (Cinclus cinclus) along Sheffield's river valleys. The research also investigated the impact of urbanisation on dipper breeding parameters, and the effect of human disturbance on populations and breeding success.
During the study, dippers were colour-ringed to allow individual movements to be tracked. These data were supplemented with historical data from local ornithology groups.
Key findings
There was a decline of 60% in the dipper population in the Sheffield region during the period 1971 to 2003.
Dippers are able to breed successfully in both urban and rural areas, but breeding productivity and rate of nest building are affected by urbanization.  However, these effects are not necessarily always negative.
Human disturbance had a negative effect on dipper breeding success.
Most dispersal by dippers in and around Sheffield is local, although some long-distance movements did occur.
Additional information
Funding:  The PhD was funded by the Libyan Embassy, London
Acknowledgements: Acknowledgements to Libya, for offering Khaled Etayeb his scholarship.  Acknowledgements also to Prof. Ben Hatchwell, Prof. Kevin Gaston, Dr. Stuart Sharp, and all the members of BIOME.
Publications
There are currently no publications associated with this project, but check back for updates.
Flagship institutes
The University's four flagship institutes bring together our key strengths to tackle global issues, turning interdisciplinary and translational research into real-world solutions.