Modelling urban ecosystem services: Spatial patterns and implications for aspects of urban design
Red areas equate to less carbon storage, green to more. 
Project background
Urbanisation causes profound environmental changes, often reducing ecosystem services, i.e. benefits from nature to human well-being.  Knowledge of how to manage urban ecosystems to retain ecosystem benefits has the potential to improve citizens' quality of life.
This PhD project, conducted by a University of Sheffield postgraduate Meghann Mears in the Department of Animal and Plant Sciences between 2007 and 2010, presents six ecosystem service models which examine the nature and spatial pattern of their provision, using the city of Sheffield as a case study.
Key findings
Ecosystem service provision generally increases from the urban centre outwards, although there some service hotspots in the urban centre.
Different services show different spatial patterns of production.
Certain features of urban design correlate with ecosystem service production levels.
Neighbourhoods with high proportions of unskilled manual workers, multicultural communities and young households are relatively deprived in terms of ecosystem services.
It is possible to identify types of urban design that could provide higher levels of ecosystem services to the most deprived groups, while still providing affordable housing.
Additional details
Funding: White Rose Consortium
Acknowledgements: Prof. Lorraine Maltby, Dr. Phil Warren, Prof. Dave Raffaelli
Publications
There are currently no publications resulting from this project.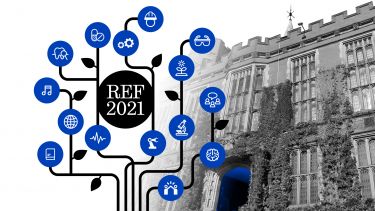 Research Excellence Framework 2021 results
The results demonstrate our research and impact excellence across a broad range of disciplines and confirm that our research is having a significant positive impact on lives across the globe.