Case study: wetland restoration at Fishlake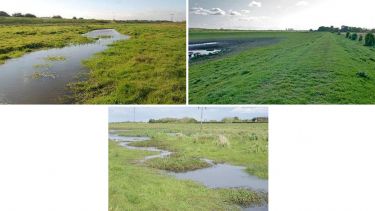 Case study
Spatial scale: Individual site
Project type: Habitat restoration project; PhD
Collaborators: Environment Agency, Animal and Plant Science PhD student Dan Richards
Date: 2009 - present
---
Project background
The site is currently rough pasture which is of little economic or ecological value.  The restoration project hopes to recreate a 60 hectare wetland adjacent to the River Don which will function as wildlife habitat and a floodwater storage area. This will change the hydrological regime of the area and reduce flooding to nearby urban areas, as well as providing opportunities for recreation.
The following are habitat priorities for the site: grazing marsh, fen, swamps and reedbeds, in-channel and bankside habitats and improved connectivity between river and wetland.  These will provide great benefit to a variety of species such as otters, water voles, lapwing, snipe and other wetland birds. The river habitats will also help eels and declining fish species such as silver bream and dace.
---
Methods
Lowering of flood banks to allow more frequent inundations of tidal water
Ground engineering to generate variation in relief, leading to areas of varying water coverage
Reed planting to create in-channel fish shelters
Creation of off-channel fish habitat open to the river
---
Key findings/outputs
Local residents have been given information about the project, as well as updates about how the project is progressing. At the request of local people, better site access will be incorporated into the designs. Fishlake also forms the focus of a PhD research project based at Sheffield University. This project will investigate the practice of floodplain habitat restoration, focusing on the resulting ecosystem services and benefits for a wide range of people.
Flagship institutes
The University's four flagship institutes bring together our key strengths to tackle global issues, turning interdisciplinary and translational research into real-world solutions.