Understanding connectivity of surface and subsurface flow in upland agricultural land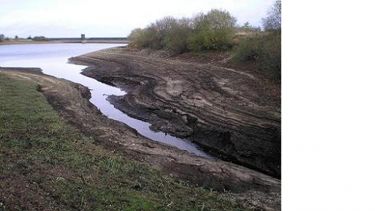 Project background
The aim of this project, undertaken as a PhD by CatSci student Irantzu Lexartza-Artza between 2006 and 2010, was to further the understanding of complex transfer processes across spatial and temporal scales in catchments, using connectivity as an overarching framework. The project took a multiple-methodology approach, using both a development of conceptual understanding and a field-based study of connectivity in upland agricultural land. The case study system used in this project was the Ingbirchworth catchment, a small catchment west of Barnsley.
Key findings
Historical changes in sediment connectivity are linked to significant land-use and management changes in the study catchment.
Sediment-contributing areas vary over time as a consequence of changing conditions, which demonstrates that typical calculations of catchment-area yields can be misleading.
Fluxes of water and sediments via subsurface pathways are significantly higher than surface fluxes. Such subsurface pathways, however, are not considered when managing transfer of water and water-associated substances.
The implementation of the connectivity framework enables the identification and conceptualization of catchment interactions and feedbacks that influence transfer processes.
Additional details
Funding: This project was part of the Marie Curie Early Stage Training programme 'CatSci', funded by the European Commission.
Publications
Lexartza-Artza, I. and Wainwright, J. (2009). Hydrological Connectivity: Linking Concepts with Practical Implications. Catena 79, 146-152.
Wainwright, J., Turnbull, L., Ibrahim, T., Lexartza-Artza, I., Thornton, S. and Brazier, R. (2011). Linking Environmental Régimes, Space and Time: Interpretations of Structural and Functional Connectivity. Geomorphology 126 (3-4), 387-404.
Lexartza-Artza, I. and Wainwright, J. (2011). Making connections: changing sediment sources and sinks in an upland catchment. Earth Surface Processes and Landforms 36 (8), 1090-1104.
Lexartza-Artza, I. and Wainwright, J. (submitted). Assessing complex catchment interactions: A study of hydrogeomorphological connectivity in a UK upland catchment. Hydrological Processes.
Flagship institutes
The University's four flagship institutes bring together our key strengths to tackle global issues, turning interdisciplinary and translational research into real-world solutions.