Case study: Wicker Riverside and Nursery Street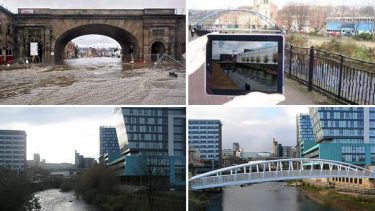 Case study
Spatial scale: Individual site
Project type: Flood protection and urban regeneration
Collaborators: The University of Sheffield, University of Bradford, Durham University, local authorities, regional and national government agencies, private enterprises, professional institutions
Date: 2008 - present
---
Project background
Wicker Riverside is a relatively rundown, underused area in central Sheffield adjacent to the Don, which experienced severe flooding in 2007.  Brownfield land and derelict buildings mean there is plenty of scope to apply radical urban design within the realistic constraints of an urban setting.  A major partnership of agencies and authorities recently came together to accomplish this, with URSULA working closely with both the Council and the Environment Agency.
---
Key findings/outputs
Visualisation has been a large part of URSULA's urban redevelopment work, with designs visualized 'on-site' through the development of new software designed to enhance stakeholders' ability to become involved with the design process.
Flood modeling software had been developed and utilized, and outputs from these models can inform flood mitigation policy.
Response from locals to the EA's practical flood prevention work has been mixed. Some welcome the measures, but others worry about the loss of diverse plant communities and habitat for birds and fish.  URSULA is researching ways of decision making that identify compromise, or even win-wins to satisfy all parties.
---
Methods
URSULA is using the Wicker to help develop and visualize new, distinctive and high quality designs for urban river corridors that maximize economic, social and environmental benefits.
A number of interventions to try and prevent a recurrence of the devastating 2007 floods have been identified.  Four alternative scenarios were developed for Wicker Riverside, incorporating different types of intervention.  ISIS 2D flood modelling was developed, with the objective of comparing how extensive flooding would be under the four intervention scenarios for different levels of flood events.
In response to the 2007 floods, the Environment Agency felled trees, cleared vegetation and dug out gravel shoals. They hoped this would allow water to flow through the system more quickly, and stop woody debris blocking bridges.
A world top-100 university
We're a world top-100 university renowned for the excellence, impact and distinctiveness of our research-led learning and teaching.