Anglo-Netherlands Society Essay Prize 2018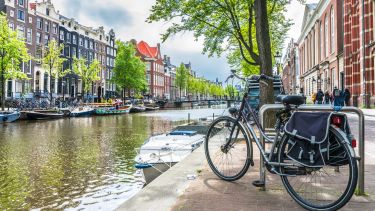 The ceremony took place on the 31 May in the Chancellor's Room of Firth Court at the University of Sheffield. The prize was awarded by the ANS Honory Secretary and former UK Ambassador to the Philippines, Mr Paul Dimond. Megan Bracewell received a cheque for £250. Her essay will be published on the ANS website and in the ANS Society's Newsletter.
---
Runner-up
Hannah Walker, 2018 runner-up ANS Essay Prize
The second prize – a cheque for £150 – went to Hannah Walker. She also wrote about the representation of Dutch colonial rule in Indonesia. 
As part of the award reception, Mr Dimond, who has served in the Foreign Office for over thirty years and also served a period in The Hague, conversed with Sheffield students about their plans for the future and the career prospects for language students. The students expressed their concerns about future opportunities to study, travel and work in the EU. Mr Dimond stressed the importance of organisations such as the Anglo-Netherlands Society in times of Brexit.
Both Megan Bracewell and Hannah Walker will spend their Year Abroad in the Netherlands, Germany and Austria.
We would like to thank the ANS, and in particular the devoted panel of judges and Mr Paul Dimond, for their continued support of Dutch Studies at Sheffield. 
A world-class university – a unique student experience
Sheffield is a research university with a global reputation for excellence. We're a member of the Russell Group: one of the 24 leading UK universities for research and teaching.