Beyond the academy: Our translation travels far and wide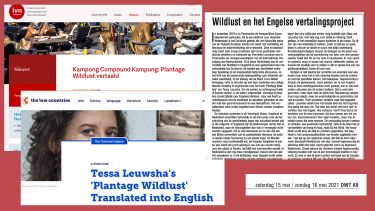 For many years, Dutch at Sheffield has hosted the Dutch Literary Translation Project. Each year we tackle an extract from a Dutch, Flemish or Surinamese literary text and translate it into English. We don't go at it alone: we are joined by the  authors themselves and a professional translator. In February and March 2021, we welcomed Surinamese-Dutch author Tessa Leuwsha and translator Jonathan Reeder.
Our translation was from Leuwsha's most recent novel Plantation Wildlust. The story is set in the early 20th century, about 50 years after the abolition of slavery in the former Dutch colony. It tells the tale of a young Dutch couple that travel to Suriname to run a coffee plantation. The tension in the novel is palpable as the individuals struggle to rise above the role that history and society have assigned for them.
The project wasn't just about creating a translation. It is also the legacy of the colonial past, the responsibilities of the translator, and the significance of translation as a political intervention.

Megan Strutt

BA German, Dutch and Luxembourgish
In late April, our translators were happy with their English text. Jonathan Reeder gave his blessing and Leuwsha too was enthusiastic: 'It is a genuinely great translation. I really enjoy the solutions that you came up with our based on our many discussions, such as 'a pouch of money', 'kampung' and the vital phrase: Would a real man do that?"
Spread the word(s)
Now that we had created a quality translation, it was high time to share the result, both in the Low Countries and in Suriname. First our translation was published on the prestigious cultural site: the-low-countries.com. One of the participants, Megan Strutt wrote the introduction. Then Elinor Sheridan published a blog (in Dutch) about the project on the website of the Internationale Vereniging voor Neerlandistiek. 
But the furthest our work travelled was definitely Suriname! We are so proud that our project made it into in the national newspaper, De Ware Tijd. The paper devoted a full page to the novelist, the novel and our translation.  We feel proud and honoured to be a bridge between languages and cultures.
Next steps
We are hoping to meet Tessa in Sheffield in autumn when we collaborate with New Dutch Writing to organise a presentation during the Sheffield literary festival Off the Shelf.  And we are hoping to welcome our new gastschrijver in spring 2022: Flemish writer and performer Rashid El Kaoui.
Translation, and in particular creative and literary translation, forms an important part of our Dutch programme. We would like to thank the Taalunie and the Dutch Foundation for Literature for their continued support.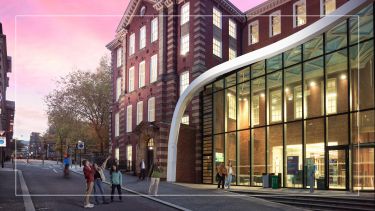 Visit us
Discover what sets Sheffield apart at our undergraduate open days on the Saturday 21 October or Saturday 18 November.