Dutch at Sheffield: Looking Back on Semester Two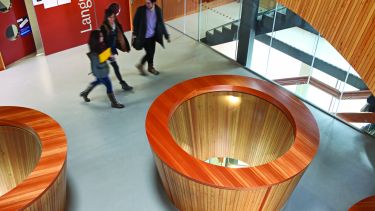 Cool
Filip De Ceuster joined our teaching team in September 2018 and he has taken Sheffield by storm. He was responsible for our Beginners and Intermediate Language teaching as well as our Low Countries Studies History and Society module.
Students are unanimously positive about his teaching. One student summarised the general mood: 'He knows his stuff and expects you to work hard and he is cool.'
Here are two short videos Filip produced in his two Dutch Beginners Groups: Variations on Marc groet 's morgens de dingen, a famous poem by Belgian poet Paul van Ostaijen.
More than just language classes
In addition to his own teaching, Filip De Ceuster and Roel Vismans worked closely with our Erasmus and Taalunie language assistants as well as with our many Erasmus language volunteers. Their contribution is another key element to our success.
At Sheffield we believe that the more you practise, the better you will get so we put structures in place for our students to practise their spoken Dutch as much as possible outside the timetabled classes. Our Erasmus language assistants make our Oral Language classes up to date and relevant – particularly if you are about to go on your Year Abroad.
They also contribute to our extensive Tandem Scheme for which a native speaker of Dutch and a native speaker of English pair up to practise each other's language over a coffee. During Semester Two, we have drawn on the many talents of Myrthe Jansen and Sanne de Kroon. Their enthusiasm and dedication were much appreciated and will be remembered.
Borrel 
On 14 May 2018 we looked back on a good year with the yearly Borrel. This is an annual moment to celebrate the progress of our students and to saying thank you for their commitment to Dutch Studies in Sheffield.
A world-class university – a unique student experience
Sheffield is a research university with a global reputation for excellence. We're a member of the Russell Group: one of the 24 leading UK universities for research and teaching.