Robert Heaney: My respect for Frisian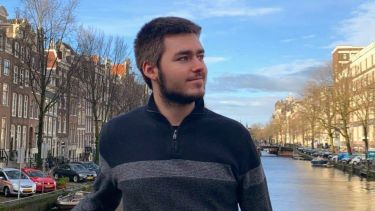 Dag! My name is Robert Heaney and I am currently in my final year of studies at Sheffield. I'm doing a BA Honours degree in French with Dutch. For one of my modules this year, we have been covering the question of multilingualism in its many forms and the ways in which multilingualism is either promoted or discouraged by various institutions. To round off the semester, we each undertook an individual research project on multilingualism. 
"It Ryk en de provinsje Fryslân diele [...] de fisy dat de Fryske taal en kultuer op de langere termyn net allinne garandearre wurde, mar ek befoardere wurde moatte."
Central government and the province of Fryslân share the view [...] that the Frisian language and culture must not only be safeguarded, but must also continue to be promoted.
Bestjoersôfspraak Fryske taal en kultuer, 2019-2023, p. 6
As a student of Dutch language and Low Countries Culture, I decided to look into Frisian, a minority language spoken primarily in the Dutch province of Fryslân, or Friesland in Dutch. More specifically, my poster presentation and its accompanying podcast investigate the extent to which the Dutch government and the province itself actively promote the use of Frisian in official policy documents, public administration and education. My project also covers the ongoing efforts and strategies of the Dutch government to promote greater use of Frisian in the coming decade.
Thanks to this project, I was able to learn more about an area which I'd previously never come across before. It allowed me an insight into how seriously certain communities regard their heritage languages. I've come away with much more than an interest and respect for minority languages such as Frisian, and will explore similar areas in the future.

Robert Heaney

BA French and Dutch
Explore the University
Discover what sets Sheffield apart at our next on-campus open day.