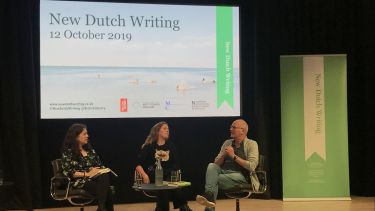 During Dutch Language week, academic and cultural institutions, bookshops, schools and city poets express their love for the Dutch Language in all its forms. On the 10th of October, Henriëtte Louwerse, Director of Dutch Studies and Chair of the International Association for Dutch Studies, pleaded at Humanity House in The Hague for a more international attitude towards the Dutch language and culture.

Dutch Language Week was also celebrated at the British Library and on BBC Radio. Henrïette Louwerse acted as a chair during New Dutch Writing, a whole day of political and cultural debate with Bart van Es (author of Costa Prize-winning The Cut Out Girl), bestselling novelist Herman Koch (The Dinner), rising stars Esther Gerritsen and Jeroen Olyslaegers, and historian and cultural broadcaster Simon Schama.
Earlier that week, Sheffield's Filip De Ceuster discussed the blind spot that is Dutch Literature in the UK with author and cultural commentator Laurence Scott in the BBC 3 radio programme Free Thinking.