Two creative writing workshops in October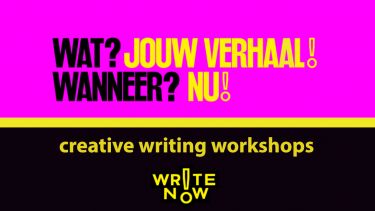 "It is not about winning, it is about the writing", says Catherine (BAMLC French, Dutch, German). And in SLC there are excellent creative writers about, in English but also in the language(s) they study.
Catherine proved that point when she won the Write Now! international round in 2020. She is delighted to have won the prize, but it was the writing and rewriting process, the frustration and the exhilaration that she remembers best. "I did the writing entirely on my own.  After I submitted, I translated the story into English so that my flatmate could read it. Every writer knows that it is so helpful to share your writing and ask for feedback".
So let's write together! These two workshops are for anybody who wants to have a go at creative writing in your (SLC) language and for those who already write regularly. It is all about engaging with language together and maybe you will make a start with that winning piece! Catherine will lead the workshops herself. 
The Centre for Dutch and Flemish Studies and the Nederlandse Vereniging invite anybody with an interest in creative writing to join us for TWO (sociable) workshops in October 2021. We will mainly write in Dutch, but other languages are welcome too, including English. 
The workshops will take place from 2 - 4pm on 13 and 20 October 2021 so that we will be ready to submit our writing by the Write Now! deadline of 29 October (for those who want to. The sessions will take place in FIRTH COURT, Chancellor's Room (that is on the first floor of the main building).