Dr Lauren White
BA (Hons), MA, PhD, AFHEA
Postdoctoral Research Fellow (she/her)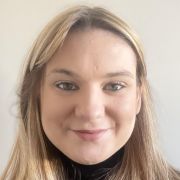 l.e.white@sheffield.ac.uk
Floor 3, Edgar Allen House
Full contact details
Dr Lauren White
School of Education
Floor 3
Edgar Allen House
241 Glossop Rd
Sheffield
S10 2GW

Profile

I am a sociologist interested in health, disability, everyday life, materialities and mobilities. I am particularly interested in creative and participatory qualitative research methods and doing meaningful public engagement. In 2017, I won the national ESRC writing prize 'Making Sense of Society' for communicating my research to broader audiences. My research is often interdisciplinary in nature and spans sociology, geography, urban studies, and disability studies. My PhD, awarded in 2020, was entitled, 'Everyday Life with Irritable Bowel Syndrome (IBS)'. This research explored the everyday experiences of living with a common health condition.  In 2020, I received an ESRC postdoctoral research fellowship which allowed me to develop research interests and share my research.

I am currently working with Prof Dan Goodley on an EPSRC TAS project entitled 'Reimagining TAS with Disabled Young People'. In this role, I am responsible for overseeing collaborative research workshops with disabled young people, as well as leading on public engagement and knowledge exchange. 

A key strand of my research to date relates to the socio-political dimensions of toilet access. This includes a collaborative Wellcome funded enhanced research award entitled, 'Beers, burgers and bleach: Hygiene, toilets and hospitality in the time of Covid-19' (with Dr Charlotte Jones, Dr Jen Slater, and Dr Jill Pluquailec), exploring the labour involved in new hygiene routines, with particular attention on the cleaning and monitoring of toilets, and the impact that this has had upon those working within the sector. I have also been working on a QR Policy / Covid Recovery funded project (with Dr Sophie Rutter) on hand hygiene at work for workers on the move.
Research interests

My research falls into the following areas:

Creative and participatory qualitative research methods 
Disability studies 
Sociology of health and illness
Sociology of everyday life 
Mobilities 
Materialities 
Publications
Teaching interests

Lauren is not currently teaching but will be offering guest lectures and has previously taught on modules which include:  

The Sociological Imagination 
Sociology of Everyday Life 
Doing Social Research
Introduction to Qualitative Research
Advanced Qualitative Research 
The Sociology of Health, Illness and Medicine 
Digital Health

Lauren has also supervised BA and MA dissertations on a diversity of sociological topics.