Dr Sabine Little
BMus, PGCE, PCHE, CiLT, Med, MA, PhD, SFHEA
Director of Education
Senior Lecturer in Educational Studies (Languages Education)
Senior Fellow of the Higher Education Academy
Course Director MA Education, Teaching and Learning
Course Director iPGCE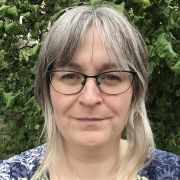 Profile

I am interested in links between language, identity, and belonging, and the role of multilingualism in society. I work both with families, schools, and public spaces such as libraries, to explore what it means to grow up multilingual. I have developed and worked on a number of projects that explore multilingualism and identity as a social justice issue, seeking to push against the deficit model of English as an Additional Language.

I work with teachers teaching in multilingual classrooms at UK and international level, providing continued professional development, and directing the international Postgraduate Certificate in Education, an online distance learning programme, taken by educationalists all over the world. I have led and worked in research projects in Mexico and The Gambia, in each case exploring the role of multilingualism in society from different angles. Technology has a frequent place in both my research and my teaching.

Before joining the School of Education, I worked as a languages teacher, and before that, I trained as an opera singer.
Research interests

My main and over-arching research interest is in the field of heritage language learners and identity - I am interested how families who speak multiple languages in the home navigate these languages, and what this means for individual family members' sense of identity and well-being.

Language is an integral part of identity, but is a very personal experience, even within the same family, so my work focuses on helping families and policy-makers understand issues and pressures faced by heritage language families, and to develop holistic support opportunities.

I am keen on developing community-driven research, working with teachers, community organisations, and children to develop research that reflects their experiences and needs. My work on creating and evaluating a Multilingual Children's Library in Sheffield was awarded the Brenda Eastwood Award for diversity and inclusion.

I am interested in hearing from prospective research students looking to work in the area of multilingualism and identity, especially in research involving children and young people/families, or the role of multilingualism in school contexts.

Recent funded projects:

Multilingual Education in The Gambia, King's College London, 2021-2022
Lost Wor(l)ds: On language, heritage, and forgetting, Economic and Social Research Council (Innovation Knowledge Exchange Fund), 2020-2022
Communities' languages, identities and belonging in participatory health care interventions in Yucatan, Mexico, Royal Academy of Engineering / Global Challenges Research Fund, 2019-2020
Children's Multilingual Reading, Arts and Humanities Research Council, 2018-2020
Heritage Language Families: Identity and Wellbeing, The British Academy, 2018-2019
Rivers of Multilingual Reading: Torrent or Trickle?, UK Literacy Association, 2017-2019
Heritage language literacy support at primary level – are YouTube and Apps the answer?, UK Literacy Association, 2015-2016
Publications

Books

Journal articles

Chapters

Conference proceedings papers

Datasets
Research group

#supervisionaries - stories of brilliant doctoral supervision

Sabine is an inspirational supervisor and mentor. She takes a personal interest in her students and is always ready to share her skills, knowledge and expertise. We share a passion for education, language and communication, and our discussions are always thoroughly enriching. She believes in me and is always encouraging me to pursue various opportunities throughout the course of my PhD journey, thus enabling me to grow on both a professional and personal level. Her guidance and constructive feedback are invaluable as she has a knack for "pushing just the right buttons," empowering me to refine my ideas and to develop my own strengths and personal attributes.
Teaching interests

Following my early career as a language teacher (German and French) in secondary school, I have taught across many of the programmes within the School of Education, ranging from the BA in Education, Culture and Childhood to the PGCE and iPGCE, multiple MA Programmes, including the Caribbean and Malta Programmes, and the EdD programme.

I enjoy working with students across all levels of study, and I gain particular pleasure from facilitating students to follow their interests - luckily, most programmes in the School of Education are designed to encourage the focus on emerging interests, and I think it is a privilege to work with students as they discover an aspect of education they feel strongly about and wish to pursue further.

I direct the iPGCE and the MA Applied Professional Studies in Education (online), both of which attract students working in international contexts.
Professional activities and memberships

Referee for multiple academic journals, including "Innovation in Learning and Teaching", "Journal of Early Childhood Research", "Language Matters", "International Journal of Educational Research" and others
Consultant for ELINET (European Literacy Policy Network) – advising on final project outputs
Membership of Research Networks: "Social and Affective Factors in Home Language Maintenance and Development" and "Learner Autonomy"
Invited expert reviewer for Luxembourg National Research Fund (FNR)