Sheffield gave me a new understanding of education
MA Early Childhood Education
After achieving a diploma certificate Fatima took the next step of a masters in Sheffield. The course has exceeded her expectations and has given her new perspectives and understanding to apply to her career.
My name is Fatima and I am from India, but I have lived and worked in Abu Dhabi, where I did my Montessori one-year diploma certificate.
I decided to come to Sheffield as I had an interest in children and I wanted to take that next step of doing a masters.
I was attracted to Sheffield as it offered a specific course with modules focused on early childhood education. I liked the fact that there was a whole module about the dissertation and seeing the reputation of the School of Education for research excellence it felt like this is where it should happen.
This course has exceeded any expectations I had. I came with the expectation to learn about early childhood and all the important aspects related to that, but the course has also given me a broad knowledge base in education and I have come across things that I did not know I should have associated with this field.
---
The whole planning and structure of the course was more than I was expecting it to be and it has been fantastic. The highlights of my study have been that while having learnt a lot of academic based knowledge I have also learned skills that will help me personally in my life.

Fatima Rodrigues

MA Early Childhood Education
---
Having a personal tutor throughout the course has been really helpful, because although it is supposed to be a lot of independent study it is useful to have someone who can guide you more specifically. The resources are also excellent, specifically the online library that can be accessed anywhere.
Being in Sheffield has given me new perspectives and understanding of education in the UK and given me the freedom and flexibility to understand perspectives in a different scenario and context.
Having done a Diploma in Dubai, after the course I want to go back there with an informed understanding of early childhood education and apply all of these new concepts and practices that I have learned.
During the course, I have learned more skills and feel more confident in my life generally. Having a degree from a good university in the UK really does add to your own value, how you see yourself and the good opportunities this offers, so I feel that that does open up a lot of avenues and prospects for me.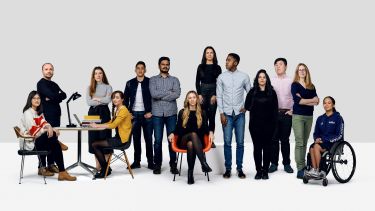 Postgraduate online event
Join our community of talented postgraduate students. Our next online event is on Wednesday 5 May.