EPSRC announces funding for Centre for Doctoral Training in Resilient Decarbonised Fuel Energy Systems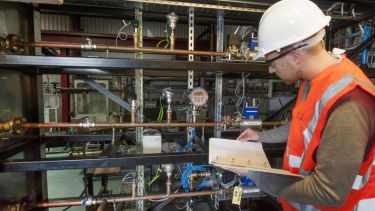 The Engineering and Physical Sciences Research Centre (EPSRC), part of UK Research and Innovation (UKRI), has announced today (Monday 4 February 2019) the list of Centres for Doctoral Training (CDT) that will receive a share from a total of £446 million. CDTs are designed to train postgraduate students and tackle research and innovation challenges across the engineering and the physical sciences landscape.
Amongst that list is the CDT for Resilient Decarbonised Fuel Energy Systems, creating a unique capability to carry out research in energy-intensive applications over the next eight years. The CDT is a collaboration between the Universities of Nottingham, Cardiff and Sheffield all of whom bring world-leading facilities and know-how to the team.
The remit for the CDT for Resilient Decarbonised Fuel Energy Systems is to carry out work in four themes which have a unifying vision of re-purposing and re-using existing energy infrastructure to deliver rapid and cost-effective decarbonisation.
The four themes are:
Allowing the re-use and development of existing processes to generate energy and co-products from low-carbon biomass and waste fuels, and to maximise the social, environmental and economic benefits for the UK from this transition.
Decreasing CO2 emissions from industrial processes by implementation of CCUS, integrating with heat networks where appropriate.
Assessing options for the decarbonisation of natural gas users (as fuel or feedstock) in the power generation, industry and domestic heating system through a combination of hydrogen enhancement and/or CO2 capture. Also critical in this theme is the development of technologies that enables the sustainable supply of carbon-lean H2 and the adoption of H2 or H2 enriched fuel/feedstock in various applications within these sectors.
Automating existing electricity, gas and other vector infrastructure (including existing and new methods of energy storage) based on advanced control technologies, data-mining and development of novel instrumentation, ensuring a smarter, more flexible energy system at lower cost. This allows flexible operation to support a system with lots of variable renewable generation.
Energy 2050's Pilot - Scale Advanced CO2 Capture Technology (PACT) facilities will be available to students at the CDT. Training will be given on a range of integrated research equipment at PACT to increase students' understanding of the challenges and prospects associated with the next generation of low carbon technologies, and how bench scale research can be demonstrated at commercial scale.
Flagship institutes
The University's four flagship institutes bring together our key strengths to tackle global issues, turning interdisciplinary and translational research into real-world solutions.