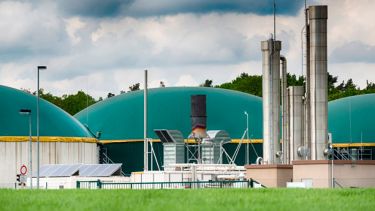 What is bioenergy?
Bioenergy is generated from algae, crops, plants and trees (known as biomass) and either burning these or converting them into liquids and gases.
The technologies for generating bioenergy include: solid wood heating installations for buildings; biogas digesters for power generation; large-scale biomass gasification plants for heat and power; and biofuels for cars.
Why is it important?
Bioenergy is the single largest renewable energy source, providing 10% of the world's primary energy supply. It is hugely important in many developing countries. The UK government has forecast that biomass could generate 10% of the country's current electricity supply, enough for around eight million homes.
Our expertise and activities
We are developing:
new sources of biodiesel and seeking to improve the yields and sustainability of current crop-based biofuels.
new designs for anaerobic digestors (AD).
We have unique facilities to test biofuels in aviation turbines.
Detailed research areas
Sustainable liquid biofuels from biomass refining.
Solar energy utilisation in bacteria.
Biorenewable fuels and materials.
Bioreactor enhancement using microbubble cloud generation from fluidic oscillation.
Integration of fluid dynamics with biological and physicochemical models.
Computational fluid dynamics (CFD) modelling of anaerobic digestion (AD).
Development of a highly efficient waste to ethanol process and also applied to algal growth.
Dual mode plasma UV microreactor for ozonolysis and hydrogenation green chemistry.
Developmental biology of plants aimed to increase the economic potential of plants grown for biofuel.
Mechanisms of lignocellulose degradation by bacteria isolated from cattle rumen.
Fundamental investigations into combustion, gasification, and pyrolysis of biomass and the associated power generation systems.
Technology development and environmental assessment of alternative fuels for thermal power plants including biomass.
Development and testing of sustainable aviation fuels.
Key people (A-Z)
Dr Mark Dickman
Reader in Bioanalytical Science and Engineering, Department of Chemical and Biological Engineering
Dr Bill Nimmo
Reader in Energy Engineering
Dr Raman Vaidyanathan
Lecturer in Biological and Bioprocess Engineering
Professor Will Zimmerman
Director of Research in Chemical and Biological Engineering
For more information please contact Dr Bill Nimmo.
Find a PhD
Search for PhD opportunities at Sheffield and be part of our world-leading research.