Drosophila facility researchers
The Drosophila/fly research community in Sheffield comprises over 30 researchers across nine research groups and is supported by a team of five technical staff.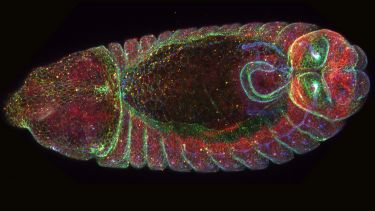 Off
Research groups
Dr Natalia Bulgakova
Role of cell-cell adhesion in morphogenesis.
---
Dr Kyra Campbell
Cell plasticity in Development and Disease
---
Dr Iwan Evans
Using Drosophila to study macrophage behaviour.
---
Professor Mikko Juusola
Neural processing, particularly in the visual system of Drosophila. Efficient codes and circuitry, form-function relationships, attention, learning and memory.
---
Dr Andrew Lin
Sensory coding, synaptic plasticity, learning and memory in the Drosophila olfactory system.
---
Dr Mirre Simons
Why and how all life slowly deteriorates to eventually cause death.
We focus on the mortality response to dietary restriction and how mortality risk increases with age.
---
Professor David Strutt
Drosophila Cell Polarity.
---
Dr Ryan West 
Molecular Mechanisms of Frontotemporal Dementia, Motor Neuron Disease and Parkinson's
---
Dr Martin Zeidler
Identification and analysis of JAK/STAT pathway regulators.
Flagship institutes
The University's four flagship institutes bring together our key strengths to tackle global issues, turning interdisciplinary and translational research into real-world solutions.