Award-winning author and champion of French language, culture and women's rights delivers talk at University of Sheffield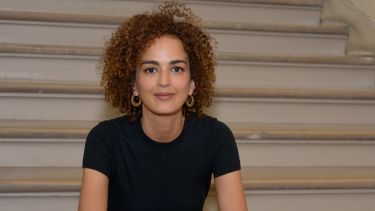 Leïla Slimani, author of the global literary sensation Chanson douce (Lullaby in English) and second on Vanity Fair's list of the most influential French people in the world, delivered a public talk to the University's Faculty of Arts and Humanities in December 2018 as part of its Arts Enterprise programme.
Leïla was the first Moroccan woman to win France's most prestigious literary accolade, the Prix Goncourt, and she was appointed by President Macron as his personal representative in a role that includes being a global champion of French language and culture.
Organised by Dr Daniel Lee, an expert on the history of modern France, the event saw Leïla take part in a wide-ranging Question & Answer session with Dr Lee and French and Francophone PhD student Amanda Tavares before also taking questions from the packed auditorium. She spoke at length about her novel, Lullaby, and shared insights into her work as a personal representative of the French President for Francophone affairs. Leïla also touched on her defence of women's rights and gender equality in Morocco.
Following the event, Leïla led a workshop for postgraduate History, English and French students at the University of Sheffield. The session explored aspects of her creative writing process and methodology, her advisory role as personal representative to President Macron and her thoughts on women's rights and gender equality in France and the Maghreb.
Sheffield's Arts Enterprise programme, which contributed to funding Leïla's visit, helps to connect arts and humanities research and creative activities from the University with local communities and partners from across the region.
Events at the University
Browse upcoming public lectures, exhibitions, family events, concerts, shows and festivals across the University.