In search of Marie-Antoinette's adopted black son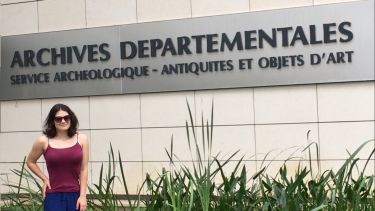 The SURE scheme offers undergraduates students the chance to gain funded research experience in collaboration with our academics. It takes place over a six-week period during the summer vacation.
Morgan's project was supervised by Dr David McCallam and grew out of his second-year French specialist module 'Writing the Revolution'. It combined Dr McCallam's expertise in eighteenth-century French history with Morgan's own interest in genealogy.
Morgan did initial training and research in the library holdings in Sheffield and at the annex of the British Library at Boston Spa. 
Then, after further discussions with her supervisor, she set off on a ten-day research trip to Paris and Versailles. For further context on her project, Morgan was able to visit the brilliant exhibition 'Le Modèle Noir' held at the Musée d'Orsay.
Moving on to Versailles, Morgan made a research trip to the Château which then led her to the Archives Départementales in Saint-Quentin-en-Yvelines. There – to her amazement and the delight of her supervisor – she discovered a box of manuscript documents relating to the life of Jean Amilcar. 
This included a certificate attesting his baptism in Versailles and papers indicating what happened to him when Marie-Antoinette was forced to abandon her adopted children when she and the royal family were forcibly escorted back to Paris in October 1789. Morgan was able to take detailed notes on some fascinating and invaluable materials which correct certain accounts about Jean Amilcar as they currently stand in biographies of the ill-fated Queen.
Reflecting on her SURE experience, Morgan says:
"I was luckily selected to research my project this summer through SURE 2019, and I'd really recommend it for anyone who might be considering doing SURE!
One of the things which makes the SURE scheme so unique is that you design the entire project which you carry out. I knew I wanted to research further into French history for my project, but one of my long time passions has also been ancestry. I never thought the two could go hand in hand for my own research project. As the module leader for a course I was really interested in, I let Dr David McCallam know that I was considering the SURE scheme, and we met a couple of times to discuss what could be an achievable, important and interesting project. After a long application form, we gained one of the 100 university funded places on the scheme!
The 6 weeks went so quickly, and the whole research experience in general was really cool, and I learnt many skills which are already helping me on my year abroad studying at Sciences Po Toulouse! Thanks to many library / archive trips, masterclasses and meetings, I'm much more able to effectively gather sources in the UK and France, and extrapolate the most out of them, something which I've found useful towards my degree already. I was very fortunate to also factor in research time in Paris and Versailles, which was so beneficial to the project and which Dr McCallam really helped me prepare for.
Thanks to the SURE scheme, I was able to first-hand research a niche area of history which is both quite unknown, but which has also opened up many doors for me looking further into research. I couldn't quite believe that I was hands-on with such historic French Royal archives during my time on the project, much of which is not available in the UK at the moment.
I definitely learnt a lot about myself on the scheme, such as the ways in which I work best and how to use my strongest academic skills as effectively as possible, but I also learnt a lot which I wasn't expecting, such as how the life of a student researcher works and how to best utilise your resources whilst studying at the University of Sheffield. I was incredibly well supervised, and I'm really grateful for the time, help and effort which Dr McCallam has given me throughout the scheme.
Morgan is currently on her year abroad at Sciences Po in Toulouse (to be followed by a semester in St Petersburg, Russia!). She is completing the last part of her project – a poster presentation on her research – while Dr McCallam is looking to draw on Morgan's tremendous research findings to conduct further work on Jean Amilcar. He is especially interested in drawing parallels between the boy's life and that of his famous female counterpart 'Ourika', a black slave girl, also taken from Senegal and similarly 'gifted' to a French noblewoman just before the Revolution, whose life was sensationally fictionalized in 1823 in Mme de Duras's novella Ourika (this text is taught on our first-year module French Critical Contexts).
Flagship institutes
The University's four flagship institutes bring together our key strengths to tackle global issues, turning interdisciplinary and translational research into real-world solutions.