Successful SURE Application Megan Strutt: Suriname (re)Collections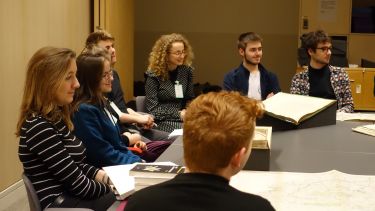 This Sheffield University scheme offers Undergraduate students the opportunity to gain funded experience working as part of an interdisciplinary research team. Megan, and her supervisors Henriette Louwerse and Filip De Ceuster, will head to London in the next few weeks for a first exploration of the British Library's Dutch-Caribbean collection. The research proper will take place over a six-week period during the summer 2019.
---
Dutch-speaking Caribbean
The British Library holds the largest collection of Caribbean materials in the UK, but there is a remarkable gap in the outward presentation of this collection. While the images, maps and texts from the English-, French-, and Spanish-speaking Caribbean have each found their way to the public, collection items from the Dutch-speaking Caribbean have stayed underexposed. Megan's Student Undergraduate Research project takes a first step in addressing this lacuna.
---
Johan Fretz
Megan will use Onder de Paramariboom (2018), an award-winning autobiographic novel by the Dutch-Surinamese writer Johan Fretz as a 'tool' for navigating the British Library's maps, images and texts. The collection items will situate Fretz's novel within a broader historical and visual context.
My interest in Dutch-Caribbean history and culture was sparked during the first-semester Dutch module 'Remembering the Past, Imagining the Future', in which the former Dutch colony of Suriname featured as a case study. My research project appeals to many of my academic and non-academic interests, such as literature and literary translation, history and language. Taking part in SURE will allow me to broaden my skillset within a supportive environment and to gain valuable research experience.

Megan Strutt

BA German with Dutch
Collaborations
This SURE project is part of a developing collaboration between Dutch at Sheffield and the British Library. Johan Fretz is no stranger to Sheffield either. He visited Sheffield in November 2018 and in March 2019 he was one of the contributing authors during our literary evening in London: Don't Mention the I-word.
Flagship institutes
The University's four flagship institutes bring together our key strengths to tackle global issues, turning interdisciplinary and translational research into real-world solutions.