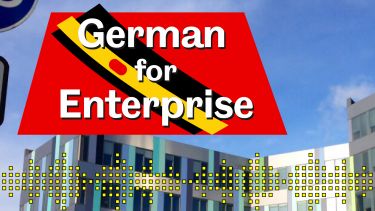 German for Enterprise - We are 6!
This year's German for Enterprise projects have been a fantastic success thanks to the hard work and professionalism of our students in Germanic Studies.
German for Enterprise, which has now been running for six years, sees students spend a semester working to project briefs set by businesses in the Sheffield City Region that would like support with German-language marketing and translation. In the past 6 years our students have worked with more than 15 different companies, including specialist steel manufacturers, globally active NGOs, high-end clothing companies and exciting new start-ups. 
This year we worked on projects set by specialist stationers Pink Pig Ltd, customised LEGO specialists Minifigs.me, renowned performance outdoor clothing manufactures Buffalo Systems Ltd and b as an eco-friendly, fairly-traded cotton canvas bags manufacturers BIDBI (Bag it don't bin it).
Here's what two of our project partners had to say about their experience of working with German for Enterprise:
Arnika Bhupal, Marketing Team Coordinator, BIDBI: 
---
"Working with the students was an extremely rewarding experience, the presentation they delivered was well thought-out and our company will be able to use each part of the project to help in expanding to the German market. Throughout the project the students kept in contact and were very proactive in finding out the pieces of information they needed from me so they could complete each objective that was set for them. I very much look forward to working with the MFL department again in the future."  
Edward Austin, Sales Marketing Manager, Buffalo Systems Ltd
---
"The work is of outstanding quality and will be put straight to good use for the business. As for the student translators, I really can't praise them all enough. The level of professionalism, commitment to communication plus working to deadlines was all impeccable. They demonstrated initiative throughout the project, not just with their skill with languages but also with technology and its applications within business, which will help them interlink extremely well when they make the transition into the world of work. It would be an absolute pleasure to work with the University again, and recommendations will certainly be given to my contacts and networks."